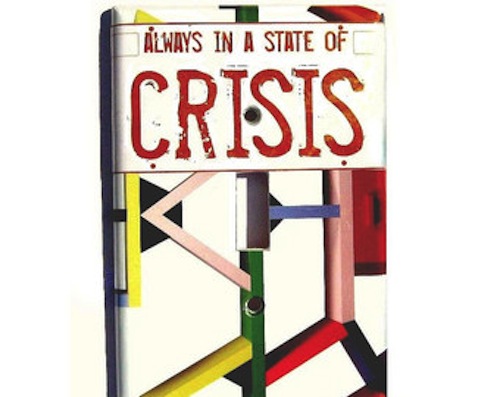 A new piece "worth time" (aye) is up at the Lana Turner blog: "Avant-Garde in Crisis," by Roberto Tejada, uses some unique rhetoric to describe a poetic avant-garde currently lacking in (the structure for?) defiance. A general idea of the piece:
If the crisis of the avant-garde is commensurate with the global downturn, with the perverse logic of credit boom and bust, then admission into the cultural marketplace is jeopardized by the expanding numbers thought to guarantee the cultural benefit of a few. In brazen pursuit of immediate gratification, how many advocates of formal innovation risk losing sight of modernism's critical reason for being?
Further in, it seems the scale is off:
Most detrimental in terms of poetry, this closure or essentialism of the medium and, typically, its domestic circulations beget an obscuring of the citizen in favor of the consumer. Having found increased welcome in once-restricted spaces—universities, professional organizations, mass circulation periodicals, special collection archives—the poetic avant-garde has proliferated over the last thirty years owing to an ever-expanding producer-consumer base, no longer sustainable as a unified creative class.
So in thinking about drawing out "modernism's critical reason for being" (so that it might not "associate [with capitalism] a shared repertoire of aspirations"), Tejada writes:
...If we measure the depth of Nietzsche's claim that a word is only "a copy in sound of a nerve stimulus" and concept the "residue of a metaphor," [ii] the political ante of the language art so escalates as to be more than an "internal relations" model for artistic change. This urgency compels us not only to redirect our assigned social scripts, but to set higher ambitions as to what can be said, in keeping with Stephen Greenblatt, about the "systemic organization of ordinary life and consciousness […], the pattern of boundary making and breaking, [and] the oscillation between demarcated objects and monological totality…"—that is, a cultural poetics. [iii]

Inasmuch as I've lost faith in the sustainability of an avant-garde as a definable formation, especially in an expanding media environment of over-production and calculated obsolescence, I want writing to re-imagine citizenship today in terms that include a voluptuousness of the self and its overcast contingencies. In this, I seek to reconcile two expansive propositions that in many ways are incompatible: U.S. American minimalism, grounded in the media specificity of its objects and materiality of form, endures because it is well equipped to expose artistic autonomy with the methods of mechanized labor and thereby to reanimate the relationship of art and industry; a Latin American neo-baroque, the extension of historic surrealism, enacts a pageantry of excess and seduction as public engagement, in interplays of violence and sensuality, with a view to the social field not as system of fixed values, but as an irreverent open-ended archive of meaning.

Central to the neo-baroque, Cuban modernist José Lezama Lima identified difficulty as a motivating feature not in terms of mere representation or strictly formal effects. He viewed difficulty with optimism as enabling of the interpretive project, a defiance given to incite the potential for knowledge as the "ordering force" of "historic vision."[iv] In this respect, difficulty requires thoughtfulness and the unique understanding attained in the joyful labor of making things. Metaphoric language is difficult to the extent that our relationship to generosity, in the broadest sense, is likewise a problem.

Psychoanalyst Adam Phillips and historian Barbara Taylor compel this question of closure and availability by asking why there exists a social anxiety around kindness when it plainly produces pleasure. They submit this is because kindness, a style of obedience to the life of others, involves, like metaphor, a loss of boundaries. [v] Dissolution, then, of the strictly formal imperative invites a more difficult reckoning with our investment in the medium as message.
Medium as message, that old thing! But, well right, this is a thoughtful piece. It goes on to consider mastery, craftsmanship, and metaphor (moreover, carefulness)...over pure innovation. But make up your own mind at Lana Turner. Thinking about carefulness in this way, now, we've somehow ended up here, for whatever that's worth ("Rootless thought generates an unlimited economy of production and consumption" seems along similar lines). Image: Looks like you can buy the crisis light-switch plate at Etsy.