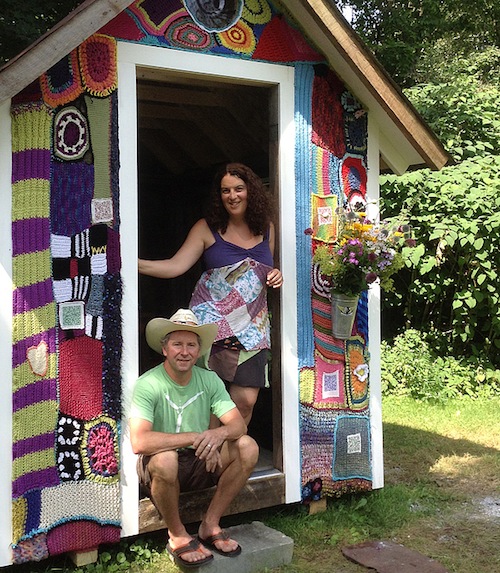 More relevant and funky than a B-52's chart-topper is the "Poets Shack," a tiny cabin situated on Clearbrook Farm in Shaftsbury, Vermont. The cozy abode was constructed by hand from century-old barn wood, is completely decked out in colorful patches of knitted and crocheted yarn, and has been dedicated to providing visitors of Clearbrook with all kinds of poetry (including a lending library and interactive QR codes that link to poets' audio recordings!).
The Poets Shack is being raffled off at the end of the month to one lucky poetry lover to raise funds for Southern Vermonter Carol Adinolfi-- a Bennington poet, chef, educator, and local hero-- who is currently undergoing treatment for lymphoma. In addition to writing poetry, Adinolfi runs the program, "Blooming Chefs," which instructs public school children how to grow and cook their own food. A post at Tiny House Blog explains:
Adinolfi received a stem cell transplant in July and the Poetry Shack is being raffled to raise funds for her ongoing treatment and recovery. "It would make a wonderful backyard writing retreat, studio, potting shed, or playhouse," says Amy Anselmo, who can be contacted directly for raffle tickets at amy@vermontiki.com or 802.447.7959.
The Poets Shack is a testament to artistic collaboration (something that Vermont artists will always be excellent at) featuring the work of dozens of fiber artists, poets, carpenters, and a glass-blower. If you're as touched and/or interested as we are, enter into the raffle (it's not just local! No green mountains? Never fear!) and read more about Carol Adinolfi and the Poets Shack here!