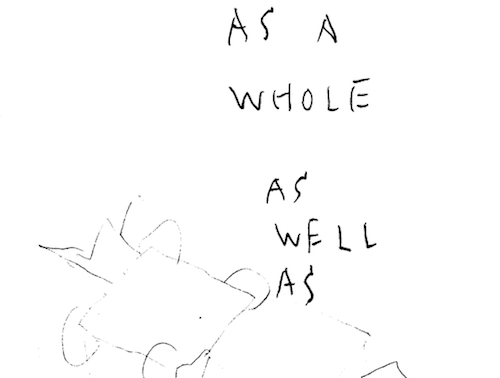 You might recall ON Contemporary Practice--a journal comprising highly thoughtful critical writing by poets/writers on practitioners, peers, colleagues, and other contemporaries--from back in the day, the particular recent days of ON's co-editor Thom Donovan (along with Michael Cross of Compline, and Kyle Schlesinger of Cuneiform) writing on ON (had to) for Harriet. The editors are re-launching ON as a "sister press" to Compline, its "critical arm," as Cross coins it. This time they're gracing us with a new, gorgeous website and the launch of their first book in the new Monograph Series, the long-awaited publication of Robert Kocik's cross-disciplinary essays, Supple Science: A Robert Kocik Primer. More info on the press:
The editors of ON believe the most valuable critical writing is that motivated by desire, friendship, sociopolitical commitment, and discourse among one's communities and peers. We are interested in producing an ongoing archive of work that generously and personally engages literary and aesthetic works that are urgent and important to our contributors. As with past 'small magazines' of any significance, ON believes that the most exciting thing we can offer our readers is a glimpse into the emergent—critical discussions among younger, marginal, and under-recognized practitioners.
The new website includes archival PDF issues of ON1 and ON2; and ON's new direction promises more PDFs from the likes of you. From the submissions page:
ON Contemporary Practice PDF Archive Series will continue to publish discursive, critical writings regarding one's contemporaries. PDFs will be published henceforth on a semi-monthly basis and featured at ON's website. With regards to submissions, ON's editors seek work that:

—addresses the work (poetics, aesthetics, ethics) of one or more of your contemporaries;

—is involved in current conversations and discourse about poetry, art, performance, and other modes of cultural production;

—is critical and discursive, but which does not fall into the genre of 'review' or 'academic article' per se;

—is 'essayistic';

—is personal, generative, and passionate;

—is rooted in the reading of one's contemporaries, peers, friends, and community;

—is not afraid to address a larger sociopolitical field or engage other disciplines;

—is leveling with regards to a wider field of cultural production (the old 'high/low' issue);

—is devoted to work that has been poorly attended or misunderstood.
We can't wait to see what surfaces from this call for work. And do wander around the ON Contemporary Practice website--lots to be found/read.