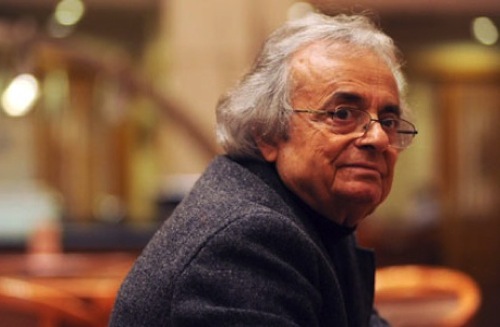 A great article on the new poetry coming out of the Syrian civil war is at Al Jazeera. "Rather than relying on metaphors and allegorical images, these new poems rely on literal, visceral descriptions, with a newfound emphasis on a united Syrian identity instead of religious symbols," writes reporter Leigh Cuen. Its distribution is also different, being spread on social media and chanted in the streets or debuted at public demonstrations. More:
Poetry is "playing a huge role in Syria right now because the lyrics are part of demonstrations," says [expatriate Syrian writer Ghias al-]Jundi. "People are singing these verses together in the streets."

Peaceful demonstrations have reduced in number and size as the violence has intensified, but they have not stopped altogether.

Facebook is one of the main channels that [professor Mohja] Atrash uses to connect with her partners in Syria. She says she discovered two poets from the city of Sweida - Youssef Bou Yihea and Najat Abdul Samad, whose work is quoted above - through the social networking site.

Atrash contacted these writers and was granted permission to translate their works into English.

"I take their poems fresh, translate them, and share them through social media," she says. "It's not just me. Today there are a lot of people translating and spreading Syrian poems from the ground."

Civilians in Syria and around the world are using social networks to share these new poems without censorship. Kahf herself has served as the leader of about 20 Facebook pages focusing on nonviolent components of the revolution.

"The young people in Syria today grew up as part of a global conversation," says Kahf.

Although Atrash believes the revolution is rejuvenating Syrian poetry, both in the Middle East and around the world, she says language barriers between global readers and Syrian writers on the ground keep international audiences from accessing many of these new works.

And it's not just language barriers hindering accessibility. The Internet is not accessible for large swaths of the Syrian population, especially as the UN estimates between a quarter and a third of the country's people have been displaced. Nevertheless, social media tools are among the only platforms for new Syrian writers to connect with each other, whether at home or in exile.

While these past two years have seen a flood of new Syrian writers, not all of Syria's prominent poets participate in this digital sphere.

"People are waiting for opposition poems from Adunis," says Maram al-Masri, a Syrian poet based in Paris, referring to Ali Ahmad Said Esber, one of Syria's greatest living poets.

"He does a little, but for me and for a lot of people, we feel disappointed. It's not enough. We need the fathers of modern Syrian poetry to speak out."

[...]

Yet with the country in the grips of a two-year-long civil war that shows no sign of abating, Syrian poets - and writers more generally - are in more danger today than ever before.

"Poets and writers are disappearing across the country," says Jundi. "Syrian writers are caught between a double danger: the regime and the Islamists. It is a risk to write or utter a word."
Read the full article.
Above, Syrian poet Adonis.