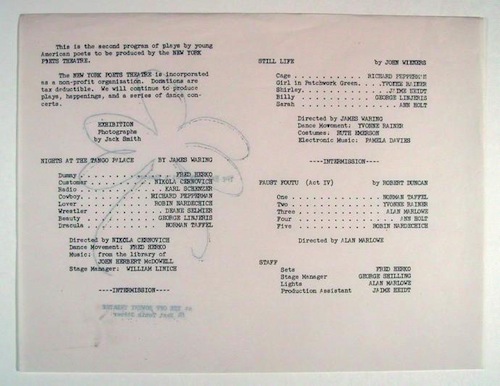 A really interesting interview is up at Pastelegram with performer and choreographer Aileen Passloff, also well-known for her involvement in New York Poets Theatre--she worked with everyone from Frank O'Hara to Claes Oldenburg to Yvonne Rainer. An excerpt from her conversation with Robin Williams:
I'm curious to go back to the Poets Theatre. You say you were directed in that way toward the theater in part because of your friendship with Jimmy Waring. Were you already interested in poetry or drama, or did it come more out of your relationship in that community?

It came out of dancing. Really everything came out of dancing. I didn't know anything about poetry, I read it, I loved listening to it, but I was ignorant. So it wasn't that. The idea of making events happen, of making life always interested me, whether it was teaching or making a choreography or making a play.

You think of that as making life? What do you mean by that?

It's like there isn't anything there before you get this white paper. Nothing's happened and you make the first marks on it, so it's the beginning of something that's alive, which is endlessly interesting.

[…]

Do you have a sense of the audience at the Poets Theater? Was it a small community of interested artists or did you have a larger public at all?

I don't know if I trust my memory, but I think I do. When we would go to see something or you would recognize everybody in the audience whether it you went to hear Jackson Mac Low read poetry or whether you were seeing a new work by Jimmy Waring or hearing new music by Richard Maxfield or La Monte Young or whatever it was. Maybe you didn't know their names, but you knew their faces. So we all went to everything, there wasn't that, "Oh, I'm an actor therefore I don't go to see dancing."

Can I ask you a little bit about your dance company, Aileen Passloff and Company? The company you had between 1958–1968, which is a time when obviously huge changes are happening in dance. Can you describe the kind of work that you were making and your company presented? What was it like? What were you trying to achieve?

Of course I'm talking about it now from many years later. Fifty years later, practically. I was interested in heat. I was interested in the dancers seeing each other and focusing on what things felt like. To take action, what did that feel like? What did it feel like to be close or far away? So I insisted on people really experiencing their own action, not just indicating it. So even though my training was very much about skills—and I'm all for skills—it wasn't the skills that interested me so much on stage. I wanted the dancers to look out from their own experience, whether they're falling or holding each other or even sitting next to each other. For me that's a deeply human experience; the work was abstract, there were no narratives. I got interested in scale and layering. In one of those productions—at the Gramercy Arts—I remember putting dancers on the theater balcony. I had found a staircase behind the theatre's cyclorama, and by taking down the cyclorama I revealed the staircase as part of the stage. I placed the lighting man under the staircase, so you saw the lighting man, you saw the staircase, you saw the balcony, you saw all these layers of life…

So you're exposing the background—

Underbelly.
Read the full interview here.
Image at top: Program, One-Act Plays by James Waring, John Wieners and Robert Duncan, 1961-1962; image courtesy the Harry Ransom Center.