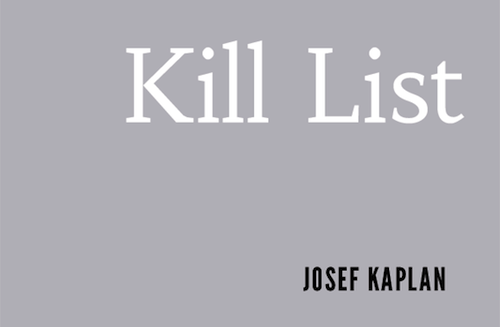 Are you a rich poet? Comfortable? Missing? Find out: Josef Kaplan's Kill List is now available as a free PDF from CARS ARE REAL, a way-worthy new project from Baltimore poet and artist Alejandro Ventura. CAR's first series includes other PDF books from authors Robert Michael O'Brien, Laura A. Warman, Lesser Alvarez, Alicia Puglionesi, and Ventura himself. Print editions to be available starting October 12, at Current Space in Baltimore, and later online. The show runs for two to three weeks. More about CARS ARE REAL, from the car's bonnet, Alejandro Ventura:
Cars Are Real started as a way to bring a sustainable platform for contemporary writing to Baltimore. In theory, and if there is still interest in the project next year, the iterative editorial process should keep the work relevant. Hopefully the project can be a kind of survey of all the good work that's being made these days.

The name comes from something the poet Bob O'Brien said to me during an email exchange in which I'd been suggesting titles for the project. At the time I'd just finished interviewing the poet-artist Jeremy Sigler. Jeremy sits on the board of a small press in New York called Futurepoem, which was one of the inspirations for CAR. I remember asking Bob, "What the fuck is a Futurepoem anyway?" Then Bob told me this anecdote about an editor who rejected one of Gregory Corso's book titles ... the short of it is, as far as CAR is concerned, [is that] Gregory Corso wrote a poem that contains the line, "cars are real." But Corso, being the classic good-for-nothing poet that he was, he wrote the words "cars are real" like this: "Cars are real! Holy crap! I mean would you look at this Corolla! This shit is insane!" When I heard that story I was like, that's exactly what I'm talking about, cars are real, period.
The poets in the show will be reading from their books at the CARS ARE REAL opening this weekend. As for Current Space, Ventura notes: "It's an artist-run center of activity in Baltimore. It's one of the places that helps our community stay tightly-knit. Besides the gallery, they have studios, host weirdo special events, and put on concerts in their back lot." We want to go...
And we mention Kaplan's Kill List because it makes a new group, forcing questions of poetry capital and formation, rumor, neutrality, material lives, and affection all in one go. A clean, long list of poets you may know are called out as either "rich" or "comfortable," by unknown means. It's a quick, rather funny (alphabetical!) read. A recording of Kaplan reading "Kill List" is also at Archive of the Now's new website, thanks to UnAmerican Activities #2. We wrote up their first reading. Here's an excerpt from Kaplan's poem, though we suggest reading it all for the full effect:

Laynie Browne is a rich poet.
Stephen Burt is a rich poet.
David Buuck is a rich poet.
Melissa Buzzeo is comfortable.

Macgregor Card is comfortable.
Anne Carson is a rich poet.
Abigail Child is comfortable.
Cody-Rose Clevidence is a rich poet.

Joshua Clover is comfortable.
Todd Colby is a rich poet.
John Coletti is comfortable.
Billy Collins is a rich poet.
Cars are real!