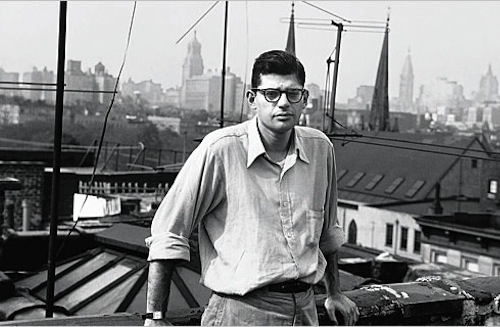 It's Friday, and if you're heading to the movies you can do a lot worse than checking out a flick featuring a young Allen Ginsberg! For all you beatniks out there, you probably already know that Ginsy wasn't always the pot smoking bearded Buddha. As a student at Columbia University, he looked more like... Harry Potter? The NY Times looks into the matter:
Long before Allen Ginsberg became the benevolent, bearded Buddha of the counterculture — and one of the most beloved American poets — he was a skinny, anxious Columbia freshman who fell in with a group of literary rebels. John Krokidas's debut feature, "Kill Your Darlings," is intent on studying these not-yet-Beats in their fledgling state, as they write the first drafts of their own legends.

Young Allen, crossing the Hudson during wartime to escape a none-too-happy home in Paterson, N.J., is played as a sensitive, studious boy by Daniel Radcliffe, with glasses and collegiate attire that may remind you of his most famous role. (David Cross plays his father, Louis, a poet of modest renown, and Jennifer Jason Leigh is his needy, mentally unstable mother, Naomi.) But though Allen may be the film's protagonist, in his own eyes and those of his peers he is more sidekick than hero: the boy who watches and wonders while more reckless and charismatic friends claim center stage.

Some of them are also destined for fame. William Burroughs (Ben Foster), heir to his family's adding-machine estate and a Harvard man, is a natty dresser with detached, almost scholarly interests in pornography and drugs that will blossom, eventually, into "Naked Lunch." Jack Kerouac (Jack Huston) is a randy, restless ex-jock with a live-in girlfriend (Elizabeth Olsen), whom he cheats on, fights with and takes for granted. (If you are looking for critical perspective on the misogyny of postwar America's most famous literary radicals, you will not find it here.)

Unlike Mr. Radcliffe, who tries to push past the established contours of his character's public persona, Mr. Foster and Mr. Huston are content with celebrity impersonation. Mr. Foster's is almost uncannily precise, Mr. Huston's broad and loud and sentimental, but they are both essentially Muppet Babies for fans of the midcentury New York avant-garde.

This is undoubtedly part of the fun of Mr. Krokidas's film, which he wrote with Austin Bunn. We are allowed a peek at the genesis of a movement that would become a matter of cultural controversy and, eventually, academic study. It is mildly thrilling to watch Allen spar with his English professor (John Cullum) about rhyme and meter. You feel a vicarious revolutionary frisson, even if the arguments sound a bit simplistic. (The professor, not a complete square, presciently refers to his renegade student as "Whitman Junior.") And Mr. Krokidas deftly shows how the ambition to write is entangled with other impulses. The emergence of Allen's poetic vocation is almost a subplot in a story about guilt, lust, friendship and murder.
We're certainly intrigued. Unfortunately, we in Chicago and the rest of the country will have to wait for the wide release of Kill Your Darlings (currently showing only in New York and Los Angeles). But, to get the full scoop on KYD, you can check out this great conversation with Andrea Lawlor and writer/director John Krokidas and co-writer Austin Bunn.