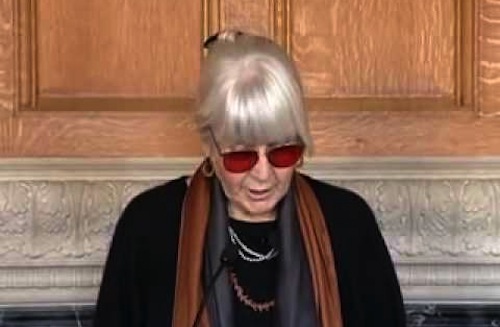 OPEN SPACE, the official blog of the San Francisco Museum of Modern Art, presents a series of posts exploring aspects of a new exhibition co-presented by the Contemporary Jewish Museum and SFMOMA called Beyond Belief: 100 Years of the Spiritual in Modern Art. In this most recent posting, Joanne Kyger shares her recollections of Bruce Conner and his work. Conner is one of many artists whose work is on display this this exhibition.
I am always amazed and moved by an experience Bruce Conner had when he was eleven years old and living in Wichita, Kansas. Writing about it in 1983 he says he was lying on the floor in his room looking at the late afternoon sun when he went into a state of consciousness that changed him: "I changed physically. I changed conceptually, and it took hundreds of years. I changed and grew old, through all kinds of experiences, in worlds of totally different dimensions. . . . Here I am in a room, and I'm enormously old. How can I ever get up? I'm practically disintegrated. I'm an ancient person . . . I can't move. And then I slowly became aware of the rug. I look at my hands and they're not old. I knew I was an old ancient person, but I didn't look that way. . . . I wanted to talk to someone about it. I couldn't. There weren't words to describe the experience . . . it was like a dream. . . . There were so many things that were unknown secrets, that adult society knew, that they didn't let children know about. I thought this was one of them."

Bruce Conner keeps a very old spirit awake, alive. "Spirit" coming from the Latin "spiritus" means breath. A breath of an alive response, which one finds in all his varied body of work — painting, sculpture, collage, printmaking, drawing, film, and photography.

Amazing! you catch your breath, seeing Conner's work. I met the first artifact of his presence on the poet Philip Whalen's desk: a tiny clam shell in a tall glass of water-sprouted flowers topped off by a spirited American flag. Where did that come from! Something from the Bruce Conner museum of oddities, a representation of his world view appearing playfully close at hand.

Two of Conner's works are shown in Beyond Belief: 100 Years of the Spiritual in Modern Art. Biblical history becomes present when God appears to Moses in the form of a burning bush and instructs him to lead the Israelis out of Egypt. Likewise the presence of this illumination of history appears to Artist Conner in the Mexican desert on September 3, 1962, as he quickly sketches in ink on paper the vision of a luminous "Burning Bush"— a plant enhanced with spirit life.
Read on at OPEN SPACE.