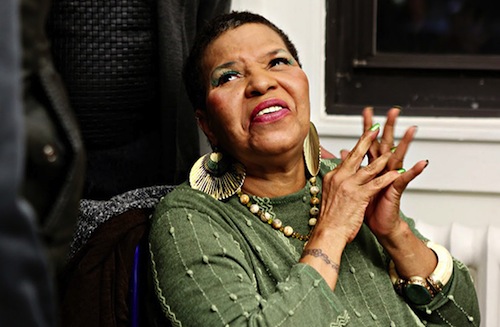 Ntozake Shange talks to the New York Times about her battle to continue to write after a series of strokes and the onset of chronic inflammatory demyelinating polyneuropathy. Author of the verse play, "For Colored Girls Who Have Considered Suicide/When the Rainbow Is Enuf," Shange currently resides in Bedford-Stuyvesant; her first play in more than a decade, "Lost in Language and Sound: Or How I Found My Way to the Arts," recently premiered at the Nuyorican Poets Café in the East Village.
"I can't count the times I viscerally wanted to attack, deform and maim the language I was taught to hate myself in," one of the characters said. "The language that perpetuates the notion that causes pain to every black child." No one else writes like that.

But for Ntozake Shange (pronounced en-toh-ZAH-kee SHAHN-gay), who once made a point of writing a poem every day so she would have fresh material to present at readings, the new lines came laden with an unfamiliar struggle. For the last decade, health problems have buffeted her relationship with language. First a pair of small strokes left her temporarily unable to read; then, in 2011, a neurological disorder called chronic inflammatory demyelinating polyneuropathy took control of her hands and feet, leaving her unable to type or write without difficulty. Until recently, she could not even stand or walk. [...]

"I can't work on a computer and I can't write very well, either," she said the other day, her words still slightly slurred from the strokes. "It sort of feels empty, not like I'm swollen with words. I feel like there's an astringent being applied to my body so that everything is getting very tight and I can't release it right this minute."

All of this has shaped the new work, which she calls a "choreoessay," in the same way that "For Colored Girls" was a "choreopoem," said Claude Sloan, a longtime friend and director who shares a brownstone with her in Bedford-Stuyvesant, Brooklyn. "Her body is conspiring against her," Mr. Sloan said. "Her art has always told the story of people who are suffering, and given meaning to their struggle. Now she's looking back and asking, 'What is art going to be for me in the body that I have now?' " [...]

"Spell-check ruins my work," she said. "It fixes all my slang and dialect into standard English. So I'm caught in a tangle of technology that feels very foreign to me. My characters don't talk necessarily in a normal American way of talking. They talk a little different. So I'm having a struggle with the grammar."

The day before, Ms. Shange had walked upstairs for the first time since her illness; earlier, she said, she tried dancing to a mambo song on the radio and was in pain for two weeks.

"But I've still got my characters in my head, and I can still hear them," she said. "When I go to the grocery store I hear them. Or we went to the San Gennaro Festival a couple weeks ago in Manhattan and I could hear all those voices again, and that invigorated me, because I said, 'Wow, they're still here, I can do it again.' So I feel optimistic about my writing career. I just was not capable of doing it for some years."

"Lost in Language and Sound," which Ms. Shange adapted from a collection of her essays, represents her next step back into the world — an experiment to see if the essays held together dramatically, and to test the interest of producers.
Wow! Read more at NYT.