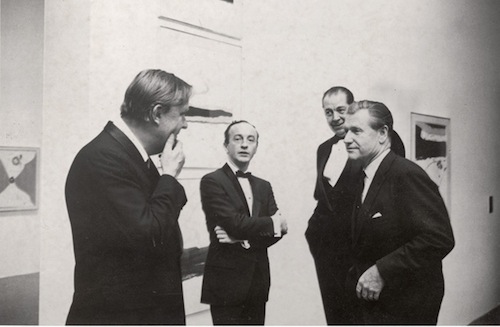 Yep, not only did Robert Motherwell hang out with Frank O'Hara, René d'Harnoncourt, and Nelson Rockefeller at the Museum of Modern Art (seen above)—he also played a seminal role in the formation of the New York School poets and painters. A new exhibition at the Guggenheim examines Motherwell's work from all sides. From Locus Solus--
Last week, the NY Times reviewed a new show at the Guggenheim devoted to the work of Robert Motherwell, the Abstract-Expressionist painter and friend to Frank O'Hara and other New York poets. The review, by Holland Cotter, refers to it as "an extraordinary show" that displays a less familiar and quite interesting side of Motherwell's achievement — particularly the surprisingly central role that collage played in his early evolution.

As Cotter notes, it was Motherwell who coined the name "New York School" for the new movement in painting he was a part of:

Abstract Expressionism is overrated. And it wasn't initially a movement or style at all. It was a bunch of unalike artists, some great, some not, who shared a city, a war, some ideas and a bar, circa 1940. Pretty much everything else, including a fecund two-decade fad for soulful painting that grew from that moment, was largely a product of marketing and myth spinning.

That, at least, is the way future historians may well see AbEx's "heroic" origins. And they'll see that Robert Motherwell (1915-91) — a born explainer, neatener and networker — had a ground-level role in creating the brand, narrowing it to a specific kind of art that purportedly channeled emotion through gesture. But Motherwell also coined a more realistically neutral and accommodating label for the vanguard art of the time: the New York School. That name covered a lot of stylistic ground.

So did he when he began his career. We see him hard at work at it in "Robert Motherwell: Early Collages" at the Solomon R. Guggenheim Museum. And it's a bracing, mettlesome, variegated sight, surprisingly so, given this artist's reputation for formulaic elegance and AbEx orthodoxy.

The review goes on to tell the story of Motherwell's evolution as a painter. Cotter praises the "experimental boldness" of Motherwell's early collage work, which stands in contrast to his later, more famous paintings, which could "often be repetitive and predictable." Cotter calls these early collages his "best — his freest, most vital, least doctrinaire" work.

More so than almost any other AbEx painter, Motherwell was well-versed in literature and philosophy, and had a strong interest in poetry in particular [...] Beginning in the early 1950s, he and Frank O'Hara developed a friendship, which, as O'Hara later recalled, was founded on a shared interest in poetry: "When we did talk later, it was almost always about poetry, Apollinaire, Baudelaire, Jacob, Reverdy, Rilke (not so much), and Lorca (lots), and we also got to Wallace Stevens and William Carlos Williams."

In 1965, as a curator at the Museum of Modern Art, Frank O'Hara put together a large retrospective of Motherwell's work. In conjunction with the show, he also wrote an article entitled "The Grand Manner of Motherwell" that appeared in Vogue (?!) in October 1965 (now collected in Standing Still and Walking in New York). In it, he observed that "the American poet probably most similar in sensibility to Motherwell" is Wallace Stevens.
Continue reading at Locus Solus.