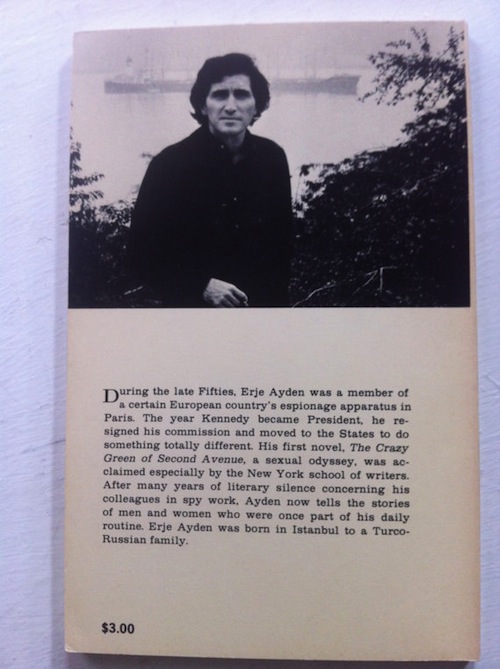 Back in early summer, we pointed you to these kind words from John Ashbery, Frank O'Hara, and The Wooster Group, on the work of beloved (but exceedingly obscure) Erje Ayden (1936-2013). "Ayden is one of the sexiest writers we have; because of his struggles with acquired language he has a vigor uncommon among our novelists; without the mannerist inclinations of Salinger, Pynchon, Barth, or Updike, he is able to convey the real trouble underneath the bizarre and the banal," wrote O'Hara. We can attest to that--with Ayden and his wife Lisa on the Performing Garage couch to our left, we were lucky enough to catch the likes of Jim Fletcher, Ariana Reines, Kate Valk, Scott Shepherd, and others performing these texts in May.
To the sadder point, we've received word from Ben Williams, editor at BODY Literature and collective member of performance troupe Elevator Repair Service, that Ayden passed away this weekend only 9 minutes before his 28th wedding anniversary. Williams has written in tribute:
I met Erje Ayden when he was already sick. It was two years ago at the Performing Garage in New York, at a benefit reading to help support – both financially and psychically – him and his wife, Lisa. Not that they would have asked for help. But I suspect that their close friends Jim Fletcher and Kate Valk insisted on the event, knowing that the experience of an author hearing his words performed by such a talented lot (including Scott Shepherd and Sibyl Kempson, as well as Kate and Jim) would give him perhaps enough power to make it a little further along in what I learned was a very painful and terrifying journey. I walked into the theater and saw Erje lying on a couch on stage, with Lisa close by and surrounded by friends, and a larger audience of the downtown community. His body was ravaged by a particularly vicious form of Parkinson's, and he could barely move. On a table by the wall lay his life's work: dozens of books – novels, novellas, collections of short stories, other texts that defied classification – all printed, it seemed, by hand. I was intrigued by the reading and bought as many books as I could.

In December, Sibyl and Kate and I had Christmas dinner with Lisa and Erje at their 1-bedroom apartment in the West Village, where Lisa had lived since 1968. It was then that I realized how special a world I had entered – an amalgam of Finnish and Turkish heritage steeped in decades of old New York, a hospitality and humility that defied the commercial bloodbath out the window, a traditional Scandinavian menu and a bottle of Fundador immune to the concerns of presentation. We had just finished a whirlwind of projects, and it was a lovely, calm, and healing occasion. As Sibyl said later, "They've dedicated their lives to the art," and had done so in a fashion that, if not practical, could only have happened at a time when the city had a fundamentally different relationship to its artists.
It's true that all of Ayden's works are out of print--but what once was found at MIT Press (Sadness at Leaving, with an introduction from Chris Kraus) can now (as long as they last!) be purchased at Etsy, the finest small-wares fair. As BODY's bio for Ayden has it:
ERJE AYDEN was born in Istanbul to a Turco-Russian family. In the 1950s he worked as spy in Paris. He moved to New York in 1957 where he started writing performance and prose pieces and befriended, among others, Willem de Kooning and Frank O'Hara. In the 1960s and 70s his novels The Crazy Green of Second Avenue, Sadness at Leaving, and From Hauptbahnhof I Took a Train became cult bestsellers, and he has since published over two dozen books, including Lost Cloud, a collection of short stories from the last 50 years.
Our hearts go out to his friends and family. Now let's buy some pulp fiction. For more information on book availability, please head over here.