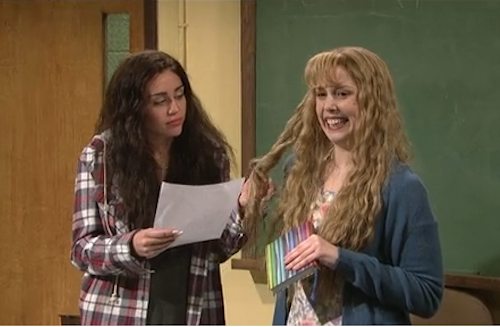 The Internet's favorite thing to talk about hosted SNL this past weekend—before you get excited, we're not talking about that cat with the flat face and missing teeth, we're talking Miley Cyrus, in all her teeny-bopper-gone-wrong glory. She appeared in a skit as a disgruntled teen in a classroom that gets a new teacher for a special poetry lesson. This clip will bring you back to tenth grade English, with its hormonal confusion, awkwardness, and uncomfortable sharing of bad poems.
Not into Miley? That might be a good thing. But the skit is worth it for this (almost!) haiku at 3:30:
Hey, where my weed at?
Aww, y'all gon' be like dat? Damn.
Why y'all quiet?
Watch the video here.