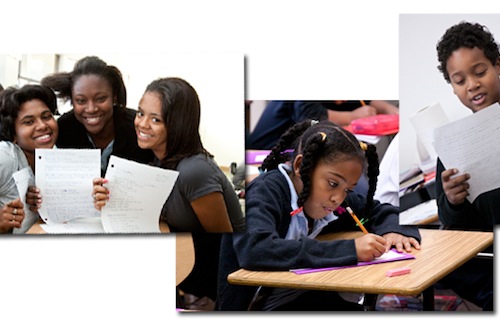 Teen Poets from Detroit's InsideOut Program took center stage on this week's episode of PBS's NewsHour. Their story is just one of many that U.S. Poet Laureate Natasha Trethewey and NewHour Correspondent Jeffrey Brown are discovering in order to find answers to the question, "Where does poetry live?" Detroit's InsideOut, founded by poet and teacher, Terry Blackhawk, is a literary arts organization based in Detroit that brings professional writers into the classrooms at 27 Detroit public schools. Via NewsHour:
"Poetry is a world where anything is possible."

Those are the words of eighth grader Patty Lare, and they very well could be the motto of "InsideOut," a Detroit literary arts program which brings professional writers into the classrooms of 27 Detroit public schools. Lare has taken the class for four years and her parents say it has given their shy child a powerful voice.

The program was the brainchild of Terry Blackhawk, a poet and former teacher, who realized that poetry allowed children to express feelings they otherwise were reluctant to talk about. "We often see students who are afraid of writing. They come armed with whiteout. So we tell them over and over that there's no right answer. What they have to say matters."

Eleven year old Ricki Porter says she likes to write down memories -- whether happy, sad or embarrassing. Once, she says, she wrote a entire poem about crying on her birthday in kindergarten. Poetry let's "somebody else know more about me."

Funded with grants and private donations, InsideOut provides writing workshops for more than 5,000 students, both in the classroom and after school. And at the end of the year, each student is given a published book containing some of their work.

Marcus Garvey Academy principal James Hearn said he was skeptical when InsideOut initially approached him about starting classes at his school. But now he's a convert. "This poetry really gets students truly motivated and excited. And I'm talking about my football players, my athletes, my basketball players. They want poetry," Hearn told the NewsHour's chief arts correspondent Jeffrey Brown.
See Detroit's powerful student poets in action at NewsHour's Art Beat.
[Poetry coverage on the NewsHour is supported in part by the Poetry Foundation.]