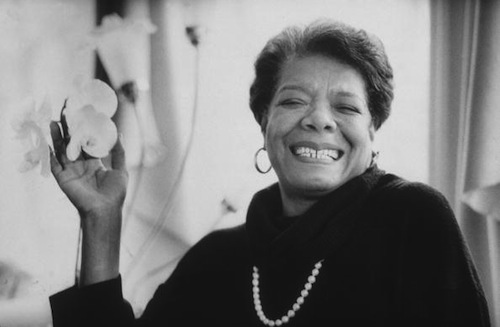 Over at Salon, Thomas Sayers Ellis discusses the influence Maya Angelou has had on his writing and his esteem for her as a cultural figure. Ellis begins by describing his first meeting with Angelou at a book signing in the 1980s: "The closer I got to her the more monumental it felt, and when I was just about three people away, she stood up for a second, and that moment of her presence seemed to last for as long as I was old." He goes on to talk about how Angelou inspires his work:
The ways are numerous but I especially admire and would like to emulate or inherit the organic and folk ease by which she enacts tough and tender care, opinion and truth. She does it with the entire experience of her whole body not just her mind. This is the wholeness all humans, no matter their craft and conditions, aspire to. When I was working on Skin, Inc.: Identity Repair Poems, I decided to stop reading poetry by my contemporaries and to collect and read all of her poems. I collected her poetry and allowed her poetic line to influence and pluck mine. Once that occurred it was easy to appreciate a wider and more creative logical progression or lyric narrative than my own. If not for Dr. Maya Angelou, I would not have been able to worry my own brand of "written-orality" into a page sense. She was performer-a-forming long before TSE and she is truly the tall, grand ampersand between the sermon and Spoken Word.
Finally, Ellis speculates on the poetry of the future:
It would be nice to have the next generation discover courage and freedom in me and my work. I would like to inspire movement, the search for new forms of poetic behavior even a physical handbook or one as mobile as the automobile. Poems you can drive. Imagine that! Yes, to expand or repair what is possible in poetry, in literacy, in life. Wouldn't it be nice if everyone could read a handkerchief or write a leaf? I would like to continue the possibilities of every breathing walk. I would like it if everyone who has been told that they are not equal could begin their art living and their living art not worried in the trap of proving that they are equal.
Head over to Salon for more of Ellis's thoughts on Dr. Angelou, and there's a poem too!