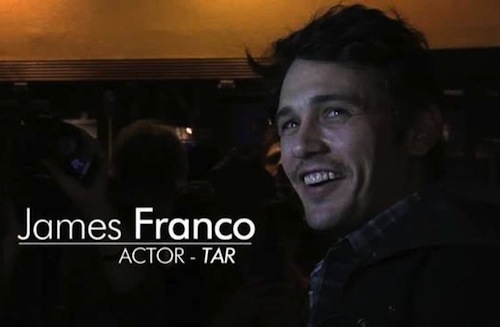 Hey, wouldn't it be great if James Franco starred in a movie that showcased poetry? Wait no longer ye rock dwellers, we found out yesterday that an adaptation of C. K. Williams's 1983 poetry collection, Tar, is slated to hit screens nation-wide. Not only does the film star Hollywood's biggest poetry champion, it co-stars Mila Kunis, with supporting roles from Jessica Chastain, Bruce Campbell, and wait for it... wait for it... Zach Braff! As Jacket Copy reports:
It sounds like an art project that could swiftly go awry: A dozen writer-directors -- NYU students -- collaborate to turn a book of poems into a feature film. What could make it be a success? James Franco, of course.

Franco is the tireless movie star slash literary figure, a writer and director in his own right, who is ready to throw his megawatt smile behind the most improbable of projects. To which now can be added "Tar."

The independently produced "Tar" is based on the 1983 book of the same name by poet C.K. Williams. Williams, who recently retired from Princeton, has won just about every poetry award possible: A Pulitzer, a National Book Award, the National Book Critics Circle Award, and an L.A. Times Book Prize among them. To that list of accolades he can add a film starring James Franco.
And now for the trailer: