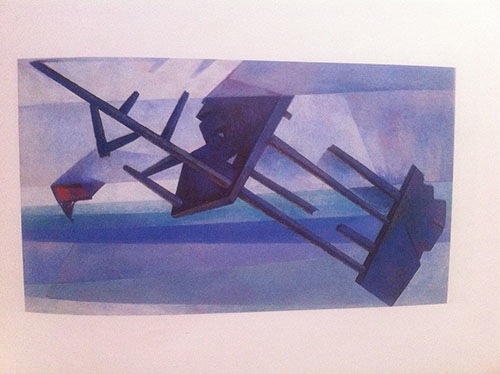 In February, I'll be spending a couple of days in DC at the Smithsonian American Art Museum to check out "Our America: The Latino Presence in American Art," the exhibition behind "PINTURA: PALABRA, a project in ekphrasis," a national multi-year initiative that will be bringing Latino writers to the exhibition. Participants will also attend a master level ekphrastic poetry workshops at the exhibition venues in Washington, DC; Sacramento,California; Miami, Florida; Salt Lake City, Utah; Little Rock, Arkansas; and Wilimington, Delaware. The whole initiative is the brainchild of Francisco Aragón, who saw the need for a new discourse between Latino poets and Latino art. It's the reverse of what he did a few years ago with "Poetas y Pintores: Artist Conversing with Verse," which had Latino visual artists create new work inspired by Latino poetry. He'll be overseeing PINTURA : PALABRA from his perch at Letras Latinas, the literary program of the Institute for Latino Studies at the University of Notre Dame.
I'm excited to read the work of these Latino poets who will be producing a very large body of ekphrastic poetry in dialogue with visual artists like Jesse Treviño, iliana emilia garcía, Carmen Lomas Garza, and Sophie Rivera, and I'm especially excited to be producing new poems. I've written ekphrastic poems before, most recently a series in my latest book on the work of Ana Mendieta, but I haven't done much formal thinking about how to write and teach the work. I've been especially thinking about how changes in contemporary art might expand and complicate the paradigm of ekphrasis, and I asked Tino Villanueva—who recently gave a talk on ekphrasis as part of the initiative—what he thought about contemporary art and ekphrasis, especially poetry that responds to art like installations. His entire response is available at Letras Latinas Blog, but this statement resonated with me:
"…there are critics that widen the definition of ekphrasis, and would include describing an installation an ekphrastic exercise. Their definition of ekphrasis would be that it is "art about art," a very sweeping, over-all, general umbrella term. Under this definition one could write, for instance, a musical piece based on a painting, or paint a painting based on a musical piece. One could make a movie out of a novel, out of an epic poem. In my talk I tried to narrow the definition—my working definition: Ekphrasis is the verbal and literary representation of a visual representation"
I'm most excited about opening up the definition of what both the artwork and the response can be. Collaborative performative works like Meredith Stricker's Alphabet Theater might be read as ekphrastic work in this new way, which deepens the symbiotic possibility of ekphrasis.
Brenda Cardenas and Valerie Martinez will be conducting the master workshop in DC. In anticipation of the exhibition, I spoke to Brenda about our shared love of Ana Mendieta, and about Brenda's interest in ekphrastic poetry. She teaches a course called Literature and the Other Arts: Poetry in Concert with the Visual Arts, and a graduate course called Poetic Craft and Theory: Poetry in Concert with the Visual Arts. She told me that the workshop will encourage us to move beyond the impulse of a mimetic approach to ekphrasis—writing what's happening in the painting—to a more organic and dynamic response to the work and its possibility, influenced by art critics, theorists, and poets.
We will introduce and ask participants to experiment with various approaches to writing ekphrastic poems within the contexts of both the exhibition's focus on Latina/o visual art and contemporary critical/theoretical concerns regarding ekphrasis. At different times before and during the workshop, participants will read and discuss a selection of published ekphrastic poems, which illustrate diverse approaches to writing in response to visual art, as well as a few critical articles that provide a foundation for such practice by addressing some of the theoretical, ethical and aesthetic implications of ekphrasis. For example, poets have envoiced the "silent" image, speaking from the perspective of a figure in the artwork; analyzed the art for its content, style, aesthetics, and/or structure; favored tonal or structural links to the artwork over thematic or descriptive ones; created their own narratives inspired by the "frozen moment" in the artwork; and intricately woven together aspects of the artist's biography (or the artist's perspectives on art or a relevant issue of his/her time) and a particular art work; among yet other approaches. We plan to provide participants with a list of questions--some that ask them to consider various aspects of a particular art work, ways of looking at/seeing it, its setting, and the context of the exhibition as they view the work, and others that ask participants to consider the very nature of ekphrasis itself and the issues that might arise for any poet engaging in it. How might we extend beyond simply representing a representation? What does it mean to "speak for" a work of art, which has its own inherent manner of expression? How might we enter into dialogue or correspondence with the work of art? What is intriguing and valuable about our particular interpretation of a work? What is limiting about it? How is the art work framed by the Latino/a exhibition in which it is included? With such examples, ideas, and questions in mind, participants will try their hands at writing pre-workshop ekphrasis and will also visit the Smithsonian's exhibition to write in the presence of art works they choose. We'll also convene to discuss the exhibition, analyze the particular approaches we've taken and choices we've made, and provide one another with feedback on our writing in progress.
The poet Blas Falconer will be experiencing the exhibition a little differently, as he'll be coming to DC to write poems on the spot about the work as a kind of ekphrasis boot camp. His latest book in progress features many ekphrastic poems inspired by Latino artists, so I asked him to share his thoughts on the process of writing an ekphrastic poem after the painting "Tras la Tormenta" by Jose Meléndez Contreras, the Puerto Rican painter and graphic artist. The poem is called "A Study of Tras La Tormenta." About the poem's writing, Blas told me:
[This painting] reminds me of storms that battered the southern coast of Puerto Rico, how everyone prepared for them, boarding up windows. After, there was always a calm on the water, but the shore was littered with debris. It was always strange then, walking the beach, processing the damage with that sense of shock and awe.

Logically, I began drafting by describing what I saw, the broken chair in the foreground and the flat landscape composed of simple geometric planes. And I considered how it was rendered: line, color, etc. Ultimately, however, what draws me to the ekphrastic poem is the tension between the image and the gestures to move beyond it. I spent days returning to the painting, studying it, until it seemed to speak to something more personal. The challenge, then, was to find a form that could fuse these two elements: the image and the corresponding personal narrative. The poem's first and third sections are most attentive to the painting, while the second section addresses a body in recovery. The three footnotes, one per section, make up a letter to this person who is ill. Together, the footnotes present the personal narrative in a more intimate tone, counter to a more formal or distant one in the main sections.
I'm always thrilled to read about another poet's process, especially to learn about how they're using the idea of seeing in their work.
The poets who will be joining me in the workshop are DC-based poets Elizabeth Acevedo, Carlos Parada Ayala, Carmen Calatayud, Samuel Miranda, Yvette Neisser Moreno, and Dan Vera. The out-of-town poets will include, in addition to myself, John Chávez, Juan J. Morales, and Emma Trelles. Emma, who has deep ties to Miami, will be leading the second ekphrastic workshop in mid-May for a group of mostly Miami-based Latino/a poets at the Patricia and Philip Frost Art Museum at Florida International University. The plan, as I mentioned, is hold workshops and other ancillary activities at all future stops.
Born in New York, poet Carmen Giménez Smith earned a BA in English from San Jose State University and an MFA in creative writing from the University of Iowa. She is the author of six collections of poetry, including Cruel Futures (City Lights, 2018); Milk and Filth (2013), a finalist for...