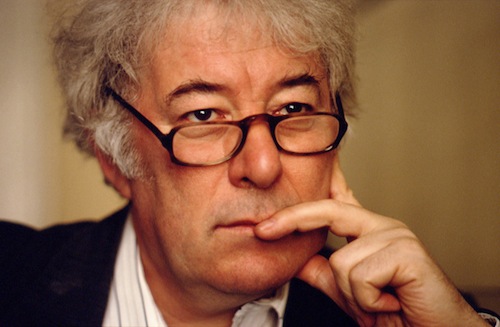 The New York Times reports on the ongoing remembrances and events celebrating Seamus Heaney, who died in August at the age of 74.
When Seamus Heaney died in August, at 74, he was hailed as a poet of unusual grace and humility, an ambassador for poetry whose reach stretched far beyond the rural Ireland of his most famous verse. And since then, the tributes have kept coming, most recently on Monday night at Cooper Union's Great Hall, where some 20 poets and friends gathered to read favorite Heaney poems to a packed house.
Students, friends, acquaintances, and admirers (including Paul Muldoon, Lucie Brock-Broido, Matthea Harvey, Edward Hirsch, Kevin Young, Tracy K. Smith, and singer Paul Simon) all read from Heaney's poetry. The article gives a recap of the night's performances:
Not that Monday's performers were given much chance to sing his praises in their own words. After two musicians playing traditional Irish tunes from a corner of the stage piped down, Alice Quinn, the executive director of the Poetry Society of America and the event's organizer, announced that there would be no reminiscences, just poetry — and to keep things moving along, no applause, please.

Still, the readers, and the audience, found ways to make their feelings clear. A spooked murmur went up at the end of "Punishment," which links the the brutality of the Irish Troubles to the fate of a long-ago adulteress drowned in a bog, read with stern command by Lucie Brock-Broido. And there was laughter at Matthea Harvey's rendering of "The Skunk," with its last lines comparing a woman's "head down, tail-up" hunt through a lingerie drawer to the posterior plumage of the "ordinary, mysterious" animal in question.

Before long, the no-applause rule broke down, and scraps of anecdotes began creeping in. Edward Hirsch introduced "Bogland," about the "bottomless" Irish soil, by recalling Mr. Heaney's claim that the poem's driving rhythm was inspired by the "unimpeded" but perhaps less than mystical passage of his leg through his pants while he was getting dressed to go out one evening. The singer Paul Simon briefly recalled meeting Mr. Heaney in Dublin in 1991, before embarking on a reading of "Casting and Gathering," a dramatization of the contest between between the voice in an artist's head that creates and the voice that says "you're no good," as Mr. Simon put it later, delivered with hand-waving and jazzy rhythms.
A remarkable night for a remarkable poet, indeed. Read the rest of the article about the night's events here.