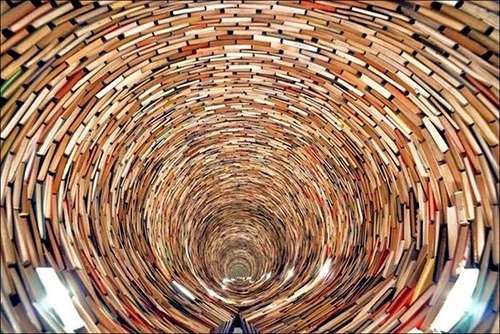 The Reading List is a new feature of the Editors' Blog this year. Each month we ask Poetry's contributors to share a book—or several—that held their interest recently. Here are some recommendations from the poets and writers in our November issue.
Dilruba Ahmed
Frost's declaration that a "poem begins in delight and ends in wisdom" holds true in Matthew Olzmann's award-winning poetry collection, Mezzanines, which I have been savoring. Olzmann's collision of unlikely elements astonishes and delights: see the titles seemingly drawn from newspaper headlines ("Dead Beetles Stuffed with Cocaine"; "Man Robs Liquor Store, Leaves Resume"; "NASA Video Transmission Picked Up by Baby Monitor"); the work that weaves pop culture into unexpected places ("Mountain Dew Commercial Disguised as a Love Poem" and "Spock as a Metaphor for the Construction of Race During My Childhood") and, as another example, the poet's reimagining of the epistolary in a series of missives written "For A Recently Discovered Shipwreck at the Bottom Of Lake Michigan." In another poem, "Notes Regarding Happiness," Olzmann brings together musings on our technology-heavy modes of communication and the desire to connect with others with an injunction to "climb over the mess we've made of this place."
I also recently began Angela Narciso Torres's Blood Orange, winner of the Willow Books Literature Award, a book that comes alive with vivid imagery that appeals to all the senses:
To know the gaggle of children

stoning mangoes on Pilar Street. To feel

the white heat of hand rhymes, mayflies,

a piano scale spiraling from a small window.

To enter the tile-roofed house, eyes smarting

from the sputter of onions in a blackened pot.

("To Return to San Juan")
Like the figure in the poem "Darkroom" who "One by one...brings us / back —daughter, brother, / mother..." so Torres renders familial histories, places, voices, and characters. Many times expressing tenderness toward the depicted family members, the speaker in other poems confronts her childhood experience with regret and guilt, as with the wistfulness toward a mother busy and exhausted with her work in the health care field: "How could we compete with a child pocked to the bone / with tumors, his hair razed by what saved him?" In another poem, "Waiting For My Father at the University Hospital Lab," Torres's use of metaphor powerfully conveys how the speaker was dwarfed in childhood by the demands of the father's profession as well:
I became infinitesimal, a tight fist

of fire and constellations, no larger

than a dust mote on the camera lens

he polished with a scrap of chamois

before peering into the deep rivers of a heart pinned open.
Tiffany Higgins
I'm reading Mitologia dos Orixás (Companhia das Letras, 2001) edited by Reginaldo Prandi, a hefty tome that pal and São Paulo scholar Dimitri Pinheiro lugged back for me in his suitcase. This collection of tales about the pantheon of nature divinities honored in Afro-Brazilian candomblé has become my new bedtime (and breakfast!) reading. I feel transported back to my girlhood reading Grimm's. One tale: Oxalá, father of the gods, in the creation first tried to make humans from air (they disappeared), wood (a bit hard), fire (consumed themselves), oil, water, palm wine—nothing worked. Orixá Nanã, seeing his trouble, pointed her magic scepter toward the bottom of the lake (her dominion), from which she brought back a clump of mud. This became the matter of humans, with one caution:
Nanã gave the material in the beginning,

But in the end she wants returned

All that which is hers.
Lately, resisting a pristine nature for a nature-culture interlacing, I'm reading Brian Teare's Companion Grasses. The "low drone wind / cut by distant cliffs' sheer fall" in Pt. Reyes National Seashore is of one sound with the "talk echoes" where "on the stoop / a woman works cornrows into her friend's hair." Urban and natural are one weave: "there's no apart."
In the braiding of Black Nature: Four Centuries of African American Nature Poetry, Camille T. Dungy composes "cycles" of poems as lovingly as if it were her own poetry volume. In one cycle, "Pests, People Too," Lucille Clifton's ode to roaches insists that our desire to exterminate threatens something "dark and prayerful" in us. Tim Seibles brings good news of
Every chemical stupidity,

every burned field, every better

home & garden finally overrun

by the green will.
And where would we be without our will to be wayward? In What to Eat, What to Drink, What to Leave for Poison, Camille Dungy praises spring's "clobbering wantonness":
I tell you, do not be ashamed. Who is

more wanton than the dancing crepe myrtle?

Is she ashamed? Why, even the dogwood,

that righteous tree of God's, is full of lust

exploding into brightness every spring.
Harmony Holiday
Looking around the bright room I write in, there's The Loom of Language: An Approach to the Mastery of Many Languages, the words "child, nino, crianca," tattooed on the cover like a slogan for the approach. And it does what it promises, this book, it goes in the direction of the many as though it's the one, de-mystifying what Sun Ra calls "The Scheme of Words." I'm stuck in the Sanskrit section, fascinated out of discipline, lazy and satisfied there like just after a good phrase, but just having this book around makes all things feel possible, makes you want to "Speak Like a Child," as Herbie Hancock recommends, and transcend the Scheme. Beside the Loom, Langston Hughes and the Chicago Defender: Essays on Race, Politics, and Culture 1942-1962, another example of Hughes's so many hues, his ability to shape-shift, as in the collection Good Morning, Revolution, so too in these essays, exists a level of comprehension and comprehensiveness that rescues those lucky enough to possess or encounter it, from outrage, with a kind of graceful will to solidarity. Langston's knack for lending glamor to diligence, that and his unlimitedness, shine through these essays. And nearby, Roland Barthes's Mythologies, "what I claim is to live the full contradiction of my time," he prefaces, and then goes on to deliver us to and then from, the categories he ascribes to that glorious (I think it's glorious) contradiction. And while we're on the topic of myths and contradictions, The Playboy Interviews with John Lennon and Yoko Ono, right to the right of me.
Playboy: It must be very liberating to have survived against all odds.
Lennon: Yeah, it's fantastic.
My laptop's perched atop Legge's translation of the IChing/The Book of Changes, some Joseph Campbell (another mythscientist) I read over the summer, and The Amiri Baraka Reader I read and re-reread everly. And then to my left, George Lewis' A Power Stronger Than Itself: The AACM and American Experimental Music. And then to my center. That's what's been on deck most recently and in the infinite present too. Lots of poetry, lots of love.
Wong May
I went through my travel diaries, this summer it has been mainly prose:
Kafka (biography, The Decisive Years)
Clarice Lispector (biography)
Alexander Kluge (essays)
Roberto Bolaño (essays)
Kluge & Bolaño have been exciting company, that took me from Tokyo to Singapore & Rangoon & back to Dublin.
But what kept me up all night in a hotel room in Beijing last month was Mao's collected poems. It's just possible to read the poet apart from the man, like listening to Wagner. Music requires no translation; words are quite another matter, except where the lyrical sweep & register is such that you say "who cares?"
And there are these lines of Yvan Goll that I copied from notebook to notebook, a reminder that on first coming across his poetry in the library of MacDowell Colony, in 1970. I have promised myself — one day to translate this man's complete oeuvre, (Goll's reputation is very much occluded by Paul Celan's, but for me they are as two brothers—from the same mother).
Your left hand is an umbelflower

Your right hand a bone flower!

And I hardly turn my glance from one to another

Than I'm already an old man.
Ottilie Mulzet
The volume that keeps coming to mind recently is one I have not yet seen, save in my imagination. I have, though, recently heard a description of it: a tiny sūtra, kept in the Museum of Rare Books in Ulaanbaatar, a manuscript containing The 21 Praises of Green Tārā, but written in such a tiny hand that it can only be read with a microscope. I imagine that this manuscript must entrance the viewer with its evocation of the sub-atomic sacred.
Strangely enough, the very first association this conjured up in my mind was a Czech samizdat manuscript, written in a similarly tiny hand, and exhibited as part of an exhibit of Czechoslovak samizdat at the National Museum in Prague some years ago. That manuscript, of course, immediately brought to mind the miniature manuscripts of the young Charlotte Brontë which have intensely fascinated me since my own youth. The nearly nano-particle nature of the samizdat letterforms served the goal of secrecy; Brontë's manuscripts possibly were created with the same purpose in mind. Certainly the sheer tininess of the letters forces the apprehension upon the viewer of completely parallel universes: meetings in cottages in the Bohemian countryside away from the prying eyes of collaborationist neighbors and the secret police; Charlotte's wildly charged imagination confined to a few centimeters of paper, away from the gaze of her father.
In the age of the digital panopticon, can these tiny pieces of paper even survive in their role of guardians of the forbidden? Shall we have to return to the Akhmatovian technique of "committing everything to memory too dangerous to be written down"? The words of Anna Akhmatova (translated by D.B. Thomas) come back to me as I gaze out the window:
In canals around the Neva fires fragment.

Scant is tragic autumn's finery.
The Mongolian poet Dashdorjiin Nacagdorj, with whose prison writings from the 1930s I am currently involved, apparently wrote his prison poems on the backs of Russian candy wrappers. The candy wrappers have not survived, but I know someone who is convinced you can just make out the shadow of an Russian candy logo on some of the facsimiles.
Aimee Nezhukumatathil
1. Subways, by Joseph O. Legaspi is a marvel of a chapbook that employs the subway as metaphor and kindle for our understanding and embrace with the world: "A man with a bloody gauze eye-patch rotates silver balls in his right hand. People are passing through our lives like refracted light. What travels beneath their secret faces…What is train but transport to other lives?"
2. Things that Are, by Amy Leach: I first met Amy at a reading we did for Orion magazine a few years ago and I am convinced her brain is going to be a national treasure. One of my favorite parts of this delightful little red book of essays is her glossary, where one can learn that the Zoological Park of Ghouls does actually exist in France, that Quaggas were indeed a thing—they used to look like zebras—and that Mouldywarps are often found in mummichogs. I dare you to read her essays aloud and not smile from the sheer delight and pop on your tongue.
3. Wonderbook, by Jeff Vandermeer: an illustrated book that teaches how to write imaginative fiction by way of studying the anatomy of an anglerfish (one of my six year-old's favorite sea creatures)? Yes, please! You'll have to check out the magical trailer here.
4. Y, by Leslie Adrienne Miller: Miller is one of those poets whose poems beg for a re-reading over the years and this book is no exception. A former love first introduced me to her work when I was in grad school and I have been eagerly devouring it ever since. In this latest collection, a collage of "adversaria" are scattered between gorgeous and elegant poems of motherhood and sons, much like entries in a common-place book that showcase "the poet's attempt to leave a trail of breadcrumbs from her forays" into subjects as varied and surprising as feral children, royal midwives, why we kiss, and even a nose-job for none other than Dante.
Hannah Sanghee Park
Once I went to a reception where they had tiers of cheeses: some were moldy, some were molded, some were veined/marbled/hard/other rock nomenclature. It taught me that samplers should be 1) varied; 2) uniformly high quality so as to not deplete one while ignoring a lesser offering; 3) of lasting power to make you return. These are quality pieces with endurance.
Tanya Larkin's My Scarlet Ways is, to borrow a word from the author, a "hydro-muscular" force. Every single poem flows through thought and startling image without a look back; each flexes its robust music, pumps its strong heart.
Aryn Kyle's The God of Animals completely broke me. Like Larkin, there's humor and heart in the writing. Kyle reveals the human condition: the best of it, the beast of it. Every facet and face of this world is given specificity and depth.
For more worlds-made-flesh, Luljeta Lleshanaku's Child of Nature shows us histories and stories from a keen, unsparing eye, one that doesn't miss anything. The speakers of these poems (and those spoken of) are memorable because her words speak to everyone.
H.D.'s Narthex & Other Stories and Marina Tsvetaeva's Earthly Signs: Moscow Diaries, 1917-1922 are amazing. H.D.'s syntactical movement is unparalleled; the first page (any page!) of the titular story embodies the Dickinsonian half-decapitation (it's poetry). Tsvetaeva always takes off the top of my head and heart. Her thoughts are poems, proverbs, jokes, revelations, and lessons: "In poetry—there's a certain innate measure of flesh: less is impossible."
Elizabeth Robinson's On Ghosts is another example of a poet I love exploring other forms. This singular book weaves through genres, lives, and words—searching and powerful. Robinson writes of the ghost whittling down the host. We are host to her ghost's sharpness; we are readily possessed.
I end with perhaps my favorite writer ever: James "Flawless" Baldwin. His play, Blues for Mister Charlie, is necessary, brutal, and beautiful. His letter to Angela Davis sears. That's all I need to say, or could ever say about Baldwin.
Natalie Shapero
Among the wilder books I've read of late is Daniel Heller-Roazen's Dark Tongues: The Art of Rogues and Riddlers, which deals with the evolution of secret languages. There's a lot about gangs of bandits and a lot about verse forms—sort of A Clockwork Orange meets The Princeton Encyclopedia. I'm now in the middle of another kind of historical explication, The Accidental Republic by John Fabian Witt. It's a look at the epidemic of industrial accidents at the turn of the twentieth century and its long effects on insurance markets and workers' rights.
One poetry collection large in my mind these days is Home Burial by Michael McGriff. In my favorite poem, a rabbit lulled by kids into a catatonic state makes the speaker recall his former self and "the distress call / we manage to send out / while we are pinned / to our stillness." Good Lord. I also just reread Claudia Rankine's Don't Let Me Be Lonely after hearing the episode of This American Life about acetaminophen overdose and having vague memories of the Tylenol parts of that book. I don't have much to say about Don't Let Me Be Lonely except that it is brilliant and massively painful writing about surviving in America among our slew of toxicities, and I hope it will one day feel as though it were written in the past and not the present.
Phillip B. Williams
Eula Biss's collection of essays, Notes from No Man's Land, has been my latest read and what a dynamic writer. Her grounded voice paired with stinging examples of racial injustices in the United States (in some cases around the globe) is a devastating mixture that makes putting the book down impossible, regardless of how painful it is to continue reading: "But the black family, as they explain after an uncomfortable silence, already knows how to act white, of course, because that is the dominant culture within which they have to live their daily lives. Knowing how to act white is a survival skill for the black family."
Everything is dead and dying and immensely alive in the baroque, gothic poems of Corey Van Landingham. Her prize-winning, debut book, Antidote, is full of elegies turned dark fables that blur the selvages between the fabrics of time and space, real and surreal, violence and love, man and wilderness. These poems scream not to be understood in any logical way, but to be sniffed and licked as any beast meeting another beast—meaning we as readers are made animal by our own grief and desires reflected in these poems: "so when you spoke to the stranger, every word was / a burial. The graveyard you were hiding in your / chest opened up for him and he was amused. It was / all wrong."
I am also currently reading:
Knees of a Natural Man by Henry Dumas: "this honey you gave me/ has turned to tears / dripping from your fingers / a lost sweetness."
Pinwheel by Marni Ludwig: "Pretend you know yourself. / Delusion, your twin, / is whittling the sky to a toy // and it is a comfort not to feel / small."