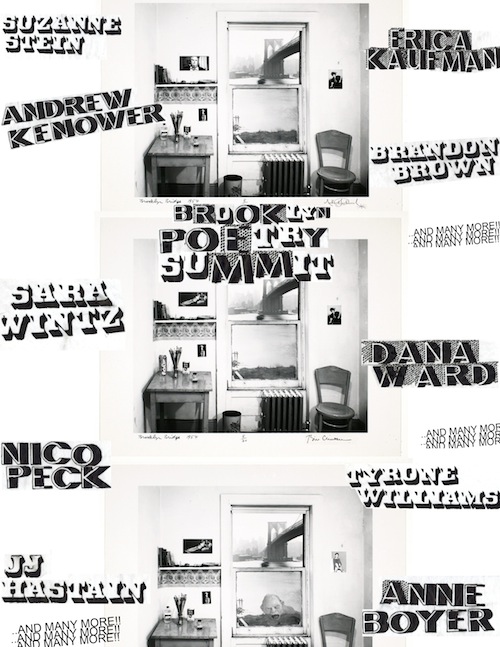 Our demands do not limit themselves to one coast! Nor to merely coast! And so we bring you, or help to, the Brooklyn Poetry Summit, happening this Aprille and much inspired by this past spring's East Bay Poetry Summit. Or as the organizers put it: "Picking up where the East Bay left off, poets from all across the country come together for a four-day Easter weekend of readings and fiesta in Brooklyn, NY."
More from their Indiegogo campaign page, where you can go to assist in the travel of such luminaries as Dana Ward, Anne Boyer, Tyrone Williams, David Abel, Sam Lohmann, erica kaufman, Sara Wintz, j/j hastain, Monica/Nico Peck, Suzanne Stein, Brandon Brown, James Yeary, Jordan Dunn, Andrew Kenower, Anne Boyer, Tanya Olson, Roberto Harrison, Sherwin Bitsui, and Eddie Hopely (returning from AUSTRALIA, y'all):
As many of you have heard, we in Brooklyn (and its surroundings) are beginning to solidify the Brooklyn Poetry Summit, which will be taking place the weekend of April 18th of the coming year with more than 20 readers from all over the country with poetics both disparate and in close conversation with one another. We are hoping to be able to bring our readers into town without them incurring financial burden, and to help mitigate the financial stress that so often roadblocks meetings of this sort.

The summit's goal is to provide a site for discourse, reading and listening whilst, of course, making similar provisions for partying with much vigor and refinement. As we are doing our best to stay away from any institutional support while still being able to bring all these poets to town without financial burden, we need support from everyone. So...donate, fast, furious, often, oftener...great "gifts," even better future payoff...think of this as your retirement fund.
For your giving, you will straight receive: tennis lessons from Thom Donovan, tarot readings from Anne Boyer, astrology reports from Denver Dufay (nb. we were lucky at the last summit to beget one of these personalized futures and are prettier for it), chapbook gift bags, Perfect Lovers bundles, The Song Cave complète, a Litmus Press membership, and more.
Unfurl your great wealth here, and enjoy the fruits.