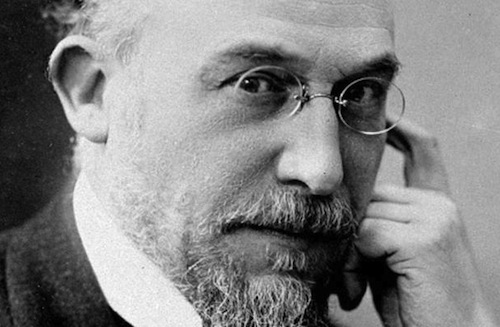 But what isn't? Gold? All right. Andy Mister wrote about Erik Satie, My Dinner with Andre, Dead C, and Han-Joachim Roedelius for Coldfront's Poets Off Poetry series:
At the beginning of My Dinner with Andre, Wallace Shawn walks around lower Manhattan. The city looks the same as it does now—but different. The subway cars still have graffiti on them. He crosses Canal Street, passing the Pearl Paint building. In voice-over he describes the life of a playwright, ending his monologue, "I've lived in this city all my life. I grew up on the Upper East Side, and when I was ten years old I was rich! I was an aristocrat, riding around in taxis, surrounded by comfort, and all I thought about was art and music. Now I'm thirty-six, and all I think about is money."

I was sixteen when I first saw the film and like many teenagers I imagined moving to New York. I would read the "Goings on about Town" section in the New Yorker with all the bands playing at places like Brownies and Tramps. Places that aren't around anymore. Places that I probably wouldn't have the time to go to anyway. Even Maxwell's is closed now. I imagined having long conversations like the one Andre Gregory and Wallace Shawn have in the film about art and life and morality. Now I'm thirty-four and I live in New York and all I think about is money.

Satie, who "made poverty an aesthetic principle," also worried about money. Having quickly gone through a small sum given to him by his father when he left the family home (spending it on a dozen identical gray corduroy suits among other extravagances), Satie moved to the suburbs of Paris to save money. Upon receiving a loan from his brother Conrad, Satie wrote to thank him: "If the dead go fast, money, which is no more stupid than anything else, goes equally fast; and it's a pleasure to see it walk straight ahead without looking round, and as proud as punch as it goes."

You never knew what music would be considered boring. Pavement was boring, The Stooges weren't. Palace was boring, Neil Young wasn't. When asked what I was listening to or what bands I liked, I would usually say Sonic Youth or the Velvet Underground. They both felt safely un-boring. If I wanted to seem cool I'd say Slint or the Dead C. I'd listen to Jandek or Half Japanese just to say that I had heard them. Finally I just stopped answering. Telling someone what music I was listening to felt too private. Like someone asking, "How's your love life?"

At the end of his second year of study, Satie performed a Mendelson Prelude for his final examination. His teacher noted: "The laziest student in the Conservatory—but gets a lovely sound."

The first person to introduce me to Erik Satie was my friend Ben. We worked together in a video store. He also worked at a record store. He was six years older than me and British and knew more about music than anyone I'd ever met. When he played the first Gymnopédie for me, it sounded familiar, but I couldn't place when I'd heard it. Then he played me Trois Gnossiennes. "There is no development, no transition, only an instant prolonged."

Satie wanted to write musique d'ameublement, furniture music, that "would be a part of the surrounding noises and would take them into account… masking the clatter of knives and forks without drowning it completely, without imposing itself. It would fill up the awkward silences that occasionally descend on guests. It would spare them the usual banalities. Moreover, it would neutralize the street noises that indiscreetly force themselves into the picture."

In his first public experiment with furniture music, Satie and the composer Darius Milhaud placed a number of performers around the Galerie Barbazange during an exhibition of children's drawings. They played fragments of well-known pieces such as Saint-Saens's Danse macabre and Thonas's Mignon along with simple ostinato patterns repeated endlessly. Satie circulated through the audience exhorting the audience, "Go on talking! Walk about! Don't listen!"
READ IT ALL HEEEERE.