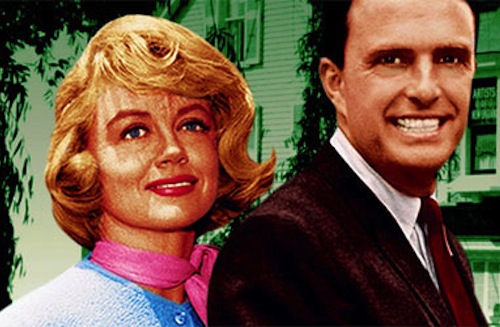 I first watched the movie Peyton Place with my grandmother in the late 70s. She and I watched just about everything on TV: musicals, shows about UFOs, gritty and inappropriate 70s dramas, and cheesy movies from the 60s. She was my pop culture pusher, and the tawdry-lite Peyton Place was right up our alley: Valley of the Dolls set in New England. All of the handsome boys on the show reminded my grandmother of someone who had once courted her, and I coveted the mini A-line dresses and Mia Farrow's pixie cut and the meringue-like layers of betrayal, murder, and small town scandal. The Peyton Place soap opera would crop up time-to-time on Channel 11 or 13, and my grandmother would underline it in the TV Guide, so we could crush on Ryan O'Neal, who we fell in love with when he starred with his daughter in Paper Moon.
174.
Rita's middle name:
Charmaine. One more useless fact
to take to the grave.
In her book Sweet Dreams: Contemporary Art and Complicity, Johanna Drucker calls engaging with art objects that are traditionally ignored by the highbrow world because they're kitschy, corny, or commercial "visual slumming." Some poets use pop culture as the cherry on top, but others—like Kiki Petrosino or Michael Robbins— make it the center of their study. Most recently, David Trinidad has written a book called Peyton Place: A Haiku Soap Opera (Turtle Point Press, 2013). Composed of 515 haiku, PPAHSO is a charming and funny serial poem tracing the show's entire run on ABC between 1964-1969. The show was based on a novel written by Grace Metalious, and starred Mia Farrow, Lee Grant, and Patricia Morrow, and follows the lives of several families embroiled in classic greed, lust, and desire machinations.
39.
Mother-daughter chat
completely upstaged by cool
sixties throw pillow.
Slumming in Peyton Place with Trinidad is great fun because the book not only appreciates the television show, it also tells the story of Trinidad's watching. We read about what draws his eyes like Constance's hair and Ann's glycerin tear. He talks to the director, the cameraman, and to us, as if we're dissecting and adoring the show on the couch with him. Trinidad mines what the show buries in its soap opera rhetoric. Norman, played by Christopher Connelly, for example, is ambiguously something, as Trinidad points out in Haiku 282: "Norman likes Rita/to wear her hair short so she'll/look like a boy. Huh."
236.
As the hearse passes,
Connie feels her baby kick.
Voilà, life and death.
The book enacts both the intimacy of (our) shared vice, and the more macro water cooler-type talk that seems to be the shorthand of our time. Mad Men and Homeland have replaced New York Times bestsellers as signs of our cultural literacy. In an essay on poetry and kitsch, Daniel Tiffany writes, "Kitsch expresses to those who consume it not individual fantasies, but collective social desires and grievances that would otherwise remain concealed. In addition, kitsch evokes and makes palpable its own ghostly circulation through countless rings of anonymous consumption." Although Americans are more and more divided by class, money, and politics than ever, we can all find commonality in talking about the ending of The Sopranos or who should have won Project Runway's eighth season (Mondo). Those are the artifacts we might examine more closely because they cross many more boundaries than other artifacts do.
329.
Immorality.
I love how that fills the line.
Im-mo-ral-i-ty.
Trinidad's haikus are like tweets: snarky, funny, and in on the joke—the joke is that many of us are consuming television as cultural critique because television's morphology and its archetypes tell us more about what we fear and desire than any other cultural artifact could. Television is our new folklore, and in his new collection, Trinidad taps into the weird sexual tensions of a 60s show based on a novel most well-known for featuring an abortion. In a review of his collection The Late Show, the New York Times writes, "[Trinidad's] most impressive gift is an ability to dignify the dross of American life, to honor both the shrink-wrapped sentiment of the cultural artifacts he writes about and his own much more complicated emotional response to them." The book is seductive because Trinidad is devoted, condescending, dogged, and cheeky: the funnest ways to receive art. Peyton Place: A Haiku Soap Opera, for its form, its completely seductive voice, and its prescience, is an exciting collection that everyone should read-watch.
512.
Do not go gentle,
soap fans. Rage, rage against the
show's cancellation.
Born in New York, poet Carmen Giménez Smith earned a BA in English from San Jose State University and an MFA in creative writing from the University of Iowa. She is the author of six collections of poetry, including Cruel Futures (City Lights, 2018); Milk and Filth (2013), a finalist for...