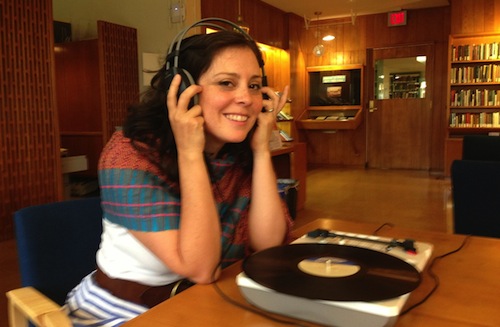 Harvard Gazette's Sarah Sweeney spent time with the Woodberry Poetry Room's Associate Curator, Chloe Garcia Roberts, to learn about Roberts's experience translating the work of late Tang-era Chinese writer, Li Shangyin.
For a poet writing in late Tang-era China, Li Shangyin sure was cheeky.

"My brother read some of the poems I've been translating," said Chloe Garcia Roberts, "and he described them as a classical Chinese Buzzfeed."

Garcia Roberts, an associate curator in Harvard's Woodberry Poetry Room, has spent several years translating Li's work, including a series of obscure lists, which Garcia Roberts, and even her brother, find completely modern.

"The list-poems document one person's reactions to and interactions with the mundane aspects of his life, and there isn't anyone alive who can't relate to that," said Garcia Roberts.

She calls the list-poems funny and bitter.

"They read like a notebook that you keep in your pocket to write down things that irritate you. One of the poems I really love I've translated as 'Scenery Killers,' but the basic idea is chronicling things that spoil your enjoyment of your surroundings."

Next spring, New Directions Press will publish Garcia Roberts' translations of Li's "Derangements of My Contemporaries," the manuscript for which she won a PEN/Heim Translation Fund a few months ago.

Language has always been central to Garcia Roberts' life. She was bilingual from the get-go, thanks to her Mexican father, and her interest in poetry was sparked early.

"There was a poet in my school's poetry program, and she came in my fifth-grade classroom and completely blew my mind," Garcia Roberts said. "Whereas other kids did soccer or piano after school, I asked my mom to sign me up for poetry classes."
Learn more—and listen to a few soundbytes of Chloe Garcia Roberts reading Li Shangyin in translation—at Harvard Gazette.