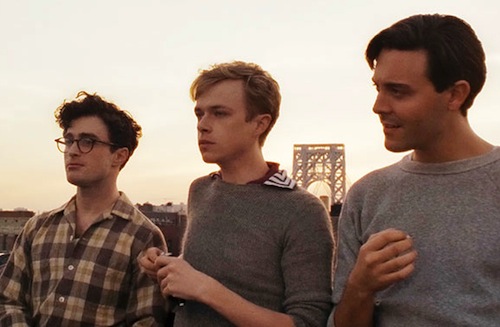 Over at The Economist, John Krokidas weighs in on the fine art of dramatizing the process of writing poetry in conjunction with his new film centered around the Beat generation, Kill Your Darlings.
THE poets and writers of the so-called Beat generation are apparently endlessly fascinating to film-makers. Among the many films these cool young mavericks have inspired are last year's "On the Road", a fictionalised account of the adventures that led to Jack Kerouac's novel of the same name, and "Howl" (2010), starring James Franco as Allen Ginsberg defending his best-known poem in a 1957 obscenity trial. These writers lived colourfully and wrote radically, making them natural subjects for the screen. Yet the films they inspire tend to be lazily presented, too convinced of their subjects' innate appeal. "On the Road" was too frantic; "Howl" too reverential.

"Kill Your Darlings", which offers a glimpse at the early university days of Ginsberg, Kerouac and their friend Lucien Carr (who ends up murdering a man in love with him), is more successful than its predecessors, perhaps because it treats its subjects as men, not gods. The film's writer and first-time director, John Krokidas, talks to The Economist about the plethora of Beat films, the challenge of presenting poetry on screen and what these writers thought about women.

Why do you think there have been so many Beat films recently?

On one level these are just young guys at college trying desperately to be different from their parents. Who can't relate to that? The counter-culture they started also laid the origins for the hippie movement in the sixties, the punk movement in the seventies and so on. Their legacy kept moving which makes them fascinating. But I suppose now you might also argue that there is a lack of that counter-culture, that kind of student rebellion. Maybe we're searching for it again.

Ginsberg is now thought of as a trailblazer, but in "Kill Your Darlings" (where he is played by Daniel Radcliffe) he's quite timid. Why did you write him that way?

The daunting thing in taking on people who I admire was not to be overwhelmed by who they would become. I made a very conscious decision to focus on who they were at that particular point. Ginsberg was an awkward young guy, caretaker to a very ill mother (played by Jennifer Jason Leigh), and a dutiful son. He wasn't a rule-breaker, not yet.

It feels like you're looking at Allen the boy, not Ginsberg the poet…

Yes, that's what I wanted. I remember Jack Huston (who plays Jack Kerouac) was overwhelmed his first day on set, saying "Oh my God, I'm playing Kerouac." And I said "Actually, you're not. You're playing a guy named Jack. He's from Massachusetts, he's at Columbia on a football scholarship, and he's beginning to realise that he thinks the jocks are a bunch of phonies. He wants to have life experiences, he wants to write."
Read more at le Economist.