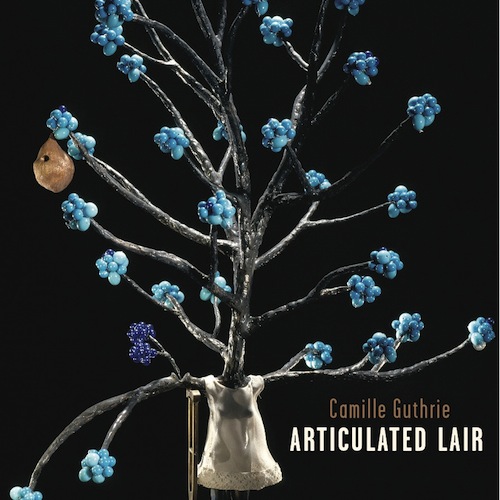 I have to preface my choices for the "best poetry books of 2013" with a caveat: I know the people who wrote these books, and I like them very much. But I also admire their work very much, and knowing them as people has only enriched my appreciation of these books, which I truly believe to be among the best of 2013. Here they are, in no particular order:
Camille Guthrie's Articulated Lair (Subpress Collective) engages in deep symbiosis with the work of one of the great artists of the 20th century, Louise Bourgeois. This is what ekphrastic poetry should always be—as fresh, alive and innovative as the artwork itself.
Kate Greenstreet's uniquely resonant voice always snags me from the first page. In her latest book, Young Tambling (Ahsahta Press), an "experimental memoir," that voice speaks just as powerfully as it explores what it means to be: a human, an artist, an emotional being, and a memory vessel.
Kimberly Lyons's Rouge (Instance Press) is a book I was proud to co-publish with Instance Press this past year. The conversational, casual erudition and deep, metaphysical funkiness of Kim's lines provide constant surprise and delight.
In Jennifer Firestone's Flashes (Shearsman Books), she inhabits the frenetic beauty and ugliness of 21st century city life. The "sky inhabits purple light" while "headlines in my head / instill the greatest fear / into a feeble human body." These flashes are brilliant and illuminating and a little scary.
Elizabeth Robinson is one of my all-time favorite poets. Her book-length meditation on hauntedness, On Ghosts (Solid Objects Press), moves fluidly between poetry and prose, between semi-autobiographical disclosure and neutral reportage, all of it swirling productively, questingly, around the issue of what it means to be haunted.
Laura Sims is the author of three books of poems: My god is this a man (2014),  Stranger (2009) and Practice, Restraint (winner of the 2005 Alberta Prize), all from Fence Books. She received a Creative Artists Exchange Fellowship from the Japan-United States Friendship Commission in 2006, and has been a co-editor of Instance Press since...