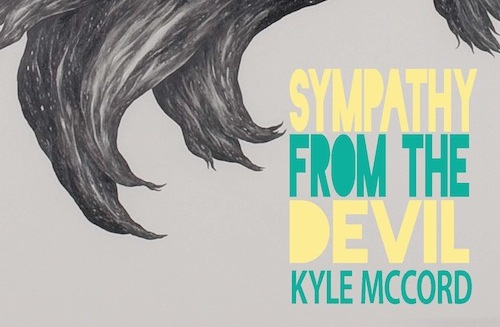 My top five poetry books of 2013 (In no particular order, really. These books are all worth your time.)
1. The Year of What Now, Brian Russell, Graywolf
It's happened before that someone I know is grieving with or for a very sick or passed-away person, and they ask me what books they should read. Now I can tell them to read this book, which I am currently reading alone on a dreary Tuesday, feeling all kinds of feelings as a result of these poems that are quiet/ frank, surprising/ excellently paced, and concerned, above all else, with relatable human experience. Also note that if you ever get the chance to see Russell read in person, you must. He is one of the most focused/ emotive/ captivating readers I have ever seen.
2. Sympathy from the Devil, Kyle McCord, Gold Wake Press
I read this book back in March. Today I'm going back through the book and listing here some of the lines I had underlined:
"I am hunted by an all-knowing spirit who grows a shade over my head one day/ and withers it the next."
"I'm sure you tire of my constant questions, but I danced/ on my heart when you shot me that one small smile by the horses"
"What's intellect worth if it kills a part of you// that would carry dangerous chemicals across borders for love?/ God's love is infinitely dense and dangerous and vanishes"
"I think it's impossible to remain alive/ without idolizing beauty even a little."
"It feels mysterious, like someone tickling my ancestor with a bat wing."
3. Bangalore, Kerry James Evans, Copper Canyon
In his poem "Operation Noble Eagle," Evans writes "this poem is for every dead American./ This poem is not for anyone else who reads poems." I asked him to talk a little more about those lines, and this is what he told me:
When I write, "This poem is not for anyone who reads poems," I address the characters in the poem: the soldier who is killed while serving overseas, the families of soldiers, my grandfather, the waitresses working doubles, the truck drivers. These characters are representative of all the people in my life who don't regularly read poetry. Like many poets, I did not grow up knowing that people still wrote poetry. I had to work. My first job was at 13, working for the 45 Truck Stop in Hamilton, Mississippi for whatever the owners would pay me. That summer I filled iced bags, landscaped, and hauled hay. Many of my friends did the same thing. My brother-in-law is an ER nurse, my sister works at an eye clinic, my brother is an electrician, and my father is currently deployed to Afghanistan. When I discovered poetry I didn't think it was for people like me. I was wrong. We all have a stake in poetry. I write poems for anyone willing to take part.
4. TINA, Peter Davis, Bloof Books
Best American Poetry compares Davis to John Ashbery in that he makes a thing so personal that it becomes universal. When I read Peter Davis's book I first thought of Frank O'Hara, thanks to the speaker's lovable willingness to slide deep, deep down into heartfelt obsession with another person. Understand, though, that at many points in these poems the speaker fixates on many other people (often distant, unnamed humans, moving around, perhaps, by other accounts, not doing anything special) and also on himself. Topics discussed (humorously, phenomenologically): Making out, beards, mustaches, failing, what people look like, tipping at restaurants…………..I was delighted by this book—please read it.
5. Trances of the Blast, Mary Ruefle, Wave Books
New research indicates that what is often perceived as a lack of empathy in autistic children are actually just the actions of a child who doesn't understand that all people in her life do not share the exact same knowledge and emotions that she possesses. For instance, if child number one (not autistic) has been told (by her mother, playing a prank) that her mother ate all of the Halloween candy, but the autistic child sees that the Halloween candy is sitting on a faraway counter, the autistic child will have no idea why child number one is crying, since the autistic child thinks that child number one has also seen that the Halloween candy is still sitting on the faraway counter. This is how I feel about Mary Ruefle's poetry. It is almost impossible for me to grasp that not everyone knows it or loves it every bit as much as I do. But if you do happen to need convincing that you need to read this book, read some of her poems from Trances of the Blast here.
Hannah Gamble is the author of Your Invitation to a Modest Breakfast (2012), selected by Bernadette Mayer for the 2011 National Poetry Series. She has received fellowships from InPrint Inc, The Edward F. Albee Foundation, and the University of Houston, where she served as an editor for Gulf Coast: A...