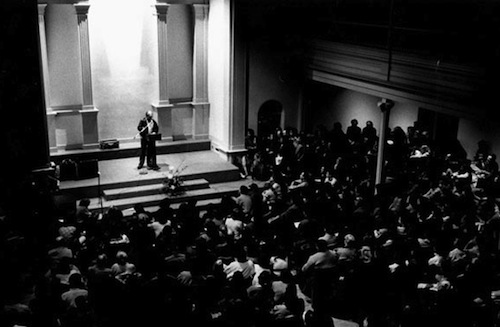 The Poetry Project at St. Mark's Church
131 E. 10th St. at 2nd Ave, NYC
Subways: L to 1st or 3rd Ave / N, Q, R, W, 4, 5, 6 to 14th St – Union Square
Event Admission: $20.
Wednesday, January 1, 2014
2:00 pm
It's the 40th anniversary of the Poetry Project's New Year's Day Poetry Marathon!
An untamed gathering of the heart's secret, wild nobility—over 140 poets together revealing not just that a better life could exist, but that it already does, sexy and wise, rancorous and sweet, big hearted and mad as hell.
This collective effort helps fund as many as 85 additional Poetry Project events—not to mention The Poetry Project Newsletter, The Recluse, and legendary workshops. It's our largest fundraiser of the year, and arguably the most inspired ongoing literary event in the city.
We have a lot of bonuses in the works to commemorate the occasion: Sean Cole, independent producer for public radio, will emcee the 7-10pm hours of the event; there will be a raffle for desirable items from The Poetry Project's collection; PLUS we'll reveal a series of 3 special edition Project tote bags made by 3 different design students at Parsons.
The 40th anniversary of the Marathon will feature:
Philip Glass, Patti Smith, Anne Waldman, John Giorno, Steve Earle, Guy Picciotto, Eileen Myles, Anselm Berrigan, CA Conrad, Bob Holman, Yvonne Rainer, Filip Marinovich, Emily Skillings, Krystal Languell, Fast Speaking Music Band, Felix Bernstein, Tracie Morris, Andrew Durbin, Todd Colby, Tom Savage, Cole Heinowitz, Alex Dimitrov, Amanda Davidson, Andrew Boston, Ariel Goldberg, Basil King, Matt Longabucco, Becca Klaver, Beth Gill, Betsy Fagin, Bill Kushner, Bob Hershon, Nathaniel Otting, Bob Rosenthal, Brenda Coultas, Sarah Schulman, Sophia Le Fraga, Brendan Lorber, Brett Price, Camille Rankine, Carley Moore, Carol Mirakove, Carolee Schneemann, Cecilia Corrigan, Christina Strong, Christine Elmo, Erica Kaufman, Evie Shockley, Christine Kanownik, Kim Lyons, Laura Henriksen, Lee Ann Brown, Christine Shan Shan Hou, Claudia La Rocco, Corina Copp, Dell Lemmon, Dynasty Handbag, Ed Friedman, Elinor Nauen, Elliott Sharp, Frank Sherlock, Jason Hwang, Jason Nazary, Jen Benka, Jennifer Bartlett, Jennifer Miller, Douglas Rothschild, Jennifer Monson & Chris Cochrane, Jim Behrle, Joanna Kotze, John Coletti, Lenny Kaye, Leopoldine Core, Lewis Warsh, Lonely Christopher, Lucy Ives w/ Ben Gocker, Lynne Tillman, Maggie Dubris, Marcella Durand, Marissa Perel, Martha King, John Godfrey, Jonas Mekas, Marty Ehrlich, Edgar Oliver, Edwin Torres, Mel Elberg, Michael Portnoy, Michelle Boulé, Mitch Highfill, Montana Ray, Nada Gordon, Nathaniel Siegel, Nick Hallett, Nicole Peyrafitte, Patricia Spears Jones, Peter Bogart Johnson, Phyllis Wat, Pierre Joris, Rachel Trachtenburg, Rangi McNeil, Rebecca Moore, Stephanie Gray, Stephen Boyer, Steven Taylor, Ted Dodson, Tommy Pico, Tony Towle, Tracey McTague, Vyt Bakaitis, Yoshiko Chuma, Don Yorty, Douglas Dunn, Yvonne Meier, Johanna Fuhrman, Nurit Tilles, Anne Tardos, and more TBA