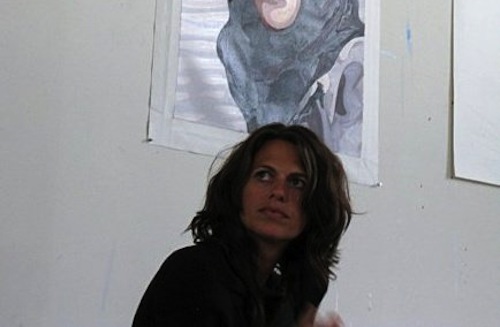 The PEN Poetry Series this week posted an excerpt from an "unruly essay-poem about mobility" by Anna Moschovakis called "A is for Addis." Addis would refer to Addis Ababa--as Moschovakis notes in the first section of the piece, "A | AFRICA," it was the only mention of the town: "[I]n Paul Theroux's 2003 New York Times Bestseller, Dark Star Safari: Overland from Cairo to Cape Town. I had thought it might make good plane reading." More (but do read the full essay at PEN):
B | BANANAS

Somebody says don't use public restrooms. Somebody says don't get your face wet when showering. Somebody says don't open your mouth too wide when speaking; a mosquito might fly in and infect you. A month before my departure date, I start looking into vaccination recommendations. The CDC website recommends Typhoid, Yellow Fever, and Meningitis and verifying the status of Hep A and B, MMR, DPT. Relieved to learn there is no malaria in Addis because of its altitude, I make an appointment to get the necessary shots and, to my surprise, am seen by an infectious disease specialist, a slim woman with a Russian accent and fishnet stockings beneath her lab coat. She confirms my short list of shots and, after her nurse administers them to me, returns with an inch-thick packet on the health hazards of travel to Ethiopia. She tells me to memorize the section on eating and drinking, which suggests, among other things, bringing disinfectant wipes for the rims of glasses, and never accepting a bottle of anything that wasn't opened in front of you. She points a red-tipped nail to the Food Safety chapter and recites a rule of thumb: The worst thing you can eat is a salad, the best is a banana. She says, if it were me, I'd stick to beer and wine. As I'm leaving, I ask her if she gets to do a lot of travel in her capacity as an infectious disease specialist. She smiles: Oh, no, I never travel, I like my creature comforts.

C | CARBON

A round-trip flight between New York City and Addis Ababa is 13,910 miles and produces 5,875 lbs of carbon, which is 13% of the total carbon output of the average North American and 24 times that of the average Ethiopian. To offset it by planting trees in Kenya would cost $43.76, less than an hour's wage for the average New Yorker and one-and-a-half times the average monthly income in Ethiopia. The morning of my departure I go shoe-shopping. My boots are worn through, and I'm worried they won't last the trip. The salesman, who tells me he is from Israel, says You're going to a very poor county, you know. My sister went to South Africa once. She was on safari, she couldn't believe her eyes. Me, I spent three years in India. The children they keep coming at you, you want to give them everything you have. I buy a pair of $110 boots that seem versatile and comfortable and wear them out of the store, leaving my old ones behind.
If you're in New York, catch Moschovakis reading with Robert Kelly at Dia Art Foundation on Monday, Dec. 16.