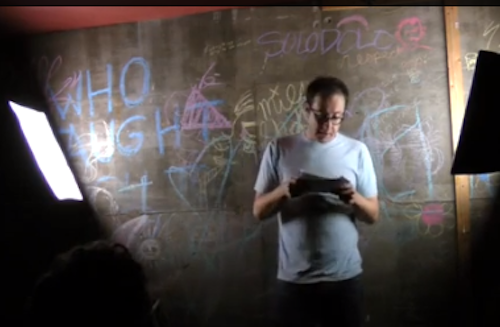 We're into this list from the Boston Review, which collects (alphabetically) the online magazine's top-20 most-read poems published there this year. Includes Ben Fama, Jessica Laser, Ariana Reines, Alice Notley, and more, as in "some of our stand-out poetry essays from the year: Evie Shockley on race and the canon, what makes Emily Dickinson Emily Dickinson?, a conversation with Stephen Burt, the paintings of Ficre Ghebreyesus, and Calvin Bedient defends the poetry of affect in 'Against Conceptualism.'"
It's not over till it's over: BR also has a new essay up today, written by David Gorin. "Radical Formalism" discusses frankly the work of Keston Sutherland and Geoffrey G. O'Brien, both of whom read for Gorin's New Haven WAVEMACHINE series this fall. Gorin also includes video, so you might follow along with his lines of thinking. Such as this bit on Sutherland's The Odes to TL61P:
As you watch the clip ... hear how he alternates between high-speed, satirical logorrhea and measured sotto voce tones of sincerity only an English accent on a mission could produce:

The beginning of this passage congeals phrases from Song of Myself ("it shall be you," "libidinous / prongs") together with other pieces of Google-able culture-junk, rendering Whitman and Lehman almost indistinguishable. The passage ends with an offensively un-Whitmanian non-sequitur. And in between, tetrameter quatrains uphold a lyricism the framing discourse throws away. The tension between ode and product code is visible on the page but even more striking in performance, where peripheral vision can't foretell when quatrains are about to happen or conclude.

One of the most penetrating moments of Sutherland's performance is the autoerotic set piece with which he began. Listen to how his immaculate deadpan carries us from bathetic send-up of the narcissistic post-romantic poet deep in self-communication—the self as wrong object—into something else....
As for O'Brien:
His latest volume, People on Sunday, proceeds through a poetics of discrepancy, giving us stately tercets filled with rage against the state, testing the inwardness of intense patterning against the outwardness indexed by his content. The first sonnet-stanza of "Materia" (which, sadly, was not read at WAVEMACHINE) pressures you to see it as an involute object, but then reverses that pressure suddenly:

I had three tasks: finish, cease, and stop.
I had the single method: wait like form
On the inside of the outside, made
Of being made. There space is nothing
So large as, tests don't end they resume,
The good and the bad have the same structure.
Let me be more specific: during the war
I remained unreal in order to match
The conflict's absence of termination
Or my experience of being involuntary
Went decisional, non-native grasses in the park,
Patterns at the edges of the game.
Or I joined one moment of helplessness
To another so that a perpetual intimacy
 
Spanned them, defeating time by further
Dividing it into nameless parts relation
Obtains among. This stretch in which
I washed the dishes perpetually affecting
This other where sunlight was done to me.
Read it all at the Boston Review.