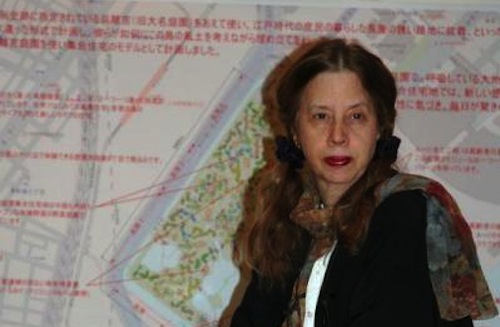 Madeline Gins--poet, architect, artist, philosopher, and long-time collaborator with artist Shusaku Arakawa--died yesterday. "She was 72. The cause of death was cancer," writes Charles Bernstein at Jacket2.
Gins lived all her life in New York, much of it with Arakawa on a loft on Houston Street. She graduated from Barnard College, where she studied painting, physics, and English. She was also a graduate of the High School of Music and Art. Her first book, a work of conceptual fiction, was Word Rain (1969). She went on to publish several other books of poetry, including What the President Must Say and Do (pdf) and her magnum opus, Helen Keller or Arakawa. With Arakawa, she created the masterpiece The Mechanism of Meaning, a philosophical investigation of the relation of words to meaning. They also published two other works of philosophical and architectural speculation: Architectural Body and Making Dying Illegal. Gins met Arakawa in 1963. Arakawa died in 2010, at the age of 73. Together, they designed and built residences and parks (Site of Reversible Destiny in Yoro, Japan).
Bernstein also includes a selected bibliography. Today, Ron Silliman has posted a video about the Reversible Destiny Foundation (we were just looking over some depictions of the site in the gorgeous We Have Decided Not to Die last night). Watch it below.
Madeline Gins: Reversible Destiny Foundation 2012 from The Jonnies on Vimeo.
In Architectural Body, which relates much to the snail musings of Francis Ponge (lest we forget--and more on that here), Gins and Arakawa write: "We must surely go to all possible lengths to determine what we exist in regard to."
Anne Boyer writes today of Madeline:
I only met Madeline once, in October, when I read at the Poetry Project. I had not known Madeline was going to be at the reading, and when I found out she was, I worried. If I had known I was reading in front of Madeline Gins, I would have read work more obviously inscribed with her influence — my "Difficult ways to publish poetry" from the small book Art is War, or pieces from a series of work about impossible architectures or from my universal novel JOAN.

I wanted to show Madeline Gins what a dutiful student I'd been of the her work, but it ultimately didn't matter that I hadn't brought the right things to read, she was generous enough to make it exactly as if I had. When she heard a poem I wrote about falling into graves, my friends told me she clapped her hands together and exclaimed, "That poem!"

It was clear to me that night that Madeline Gins' influence was inscribed on all of my work. If you could read the real first line (the invisible one) before the first line of anything else I wrote, it would say: "Dear Madeline Gins, this is made possible by you."

After the reading, she encouraged me lavishly, and finally, she said to me, as if she'd known I was already dreaming of writing a Temple of Public Weeping: "It is easy to go from being a poet to architect: it is as easy as taking your hand." Then she took my hand.
The poetic leap! Rest in peace and productivity, Madeline!