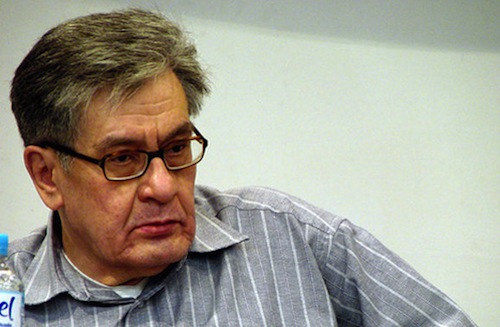 Today we discovered the sad news of the death of José Emilio Pacheco, winner of the 2009 Cervantes Literature Prize. He was 74. The Huffington Post reports:
Jose Emilio Pacheco, widely regarded as one of Mexico's foremost poets and short story writers, died Sunday at age 74, the country's National Council for Culture and the Arts announced on its official Twitter account.

President Enrique Pena Nieto also mourned Pacheco with his own tweet after Pacheco's daughter confirmed the death to local journalists.

The poet, novelist, journalist, essayist and literary critic came to be seen as a leading representative of the generation of Mexican writers that came of age in the late 1950s and 1960s.
Douglas Martin at the New York Times writes that Pacheco "[...] emerged in the 1960s as one of a group of socially concerned poets and authors who addressed burning issues like pollution, poverty and governmental bureaucracy. His early poetry resonated with surrealist and symbolic imagery, but he soon turned to the simpler, more direct style that typified his more than a dozen books of poems." Martin goes on to report:
The Times Literary Supplement, in London, suggested that Mr. Pacheco's precision, restraint and balance made "the sense of evil and disaster in the poems the more striking."

Writing about nature's cruelty, Mr. Pacheco said of migrating fish, "Out of a thousand, 10 will reach the sea." And humans, in his view, were the most violent creatures. "Fish don't torture," he wrote. "Their banks don't ever charge interest."

The meaning and meaninglessness of time were frequent concerns. Merlin H. Forster, who edited "Tradition and Renewal: Essays on Twentieth-Century Latin American Literature and Culture" (1975), wrote in an essay for that book, "Pacheco is painfully aware of cyclic time and transistory human experience."
Read more about Pacheco's life and work here, here, and here.