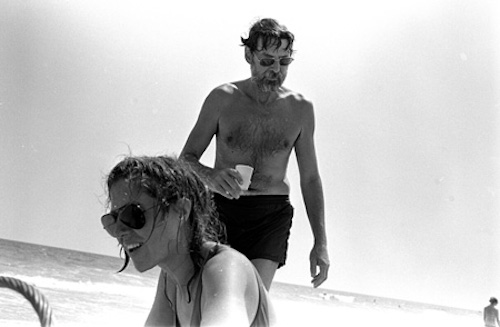 Penelope Creeley has penned a beautiful essay to commemorate The Notre Dame Symposium on Robert Creeley's Library, taking place on Friday, February 7. The Creeley symposium will feature Granary Books's publisher Steve Clay and scholar Kaplan Harris, and will also celebrate the publication of the The Selected Letters of Robert Creeley, long-awaited and just published by UC Press, edited by Harris, Peter Baker, and Rod Smith.
Penelope and Robert seem to meet over and over again: "The first time I ever saw Robert..."; "I saw the same man again the next day"; "Was it later that same day Robert and I did meet?"; "The first time I saw Robert in America...." Then, there's picture-hanging:
One of the many things Robert and I had in common was a sense of domesticity. It is interesting to me now to think I was up a ladder hanging a picture, when the call came that changed my life. Robert and I hung pictures together in many, many places, as we moved and moved, made home where we found ourselves. Hanging pictures was one way we did it. Another, equally or more important way was making bookshelves. Robert, it turned out somewhat to my surprise, was a master bookshelf-builder. It came from years of practice, long before I ever showed up, that was driven by a need for order, and a need to keep his beloved books safe, sorted, out of harm's way. When I first arrived in Buffalo, books were in boxes still, in the unused, unfurnished living room. Robert had a worktable with his typewriter in the kitchen, and a few books in the bedroom. That was in July. By the end of August, as the new semester approached, a tiny, embryonic sense of permanence and potential routine began to enter our lives. It was marked by the building of the bookshelves, followed by the opening of the boxes, and the arranging of the books, the works of Robert's 'beloved company'. We had got to know the spaces of the living room by lying on the floor in there, listening to jazz in an attempt to educate me, and imagining the room. The old white VW bug we drove then, came home from a visit to the lumberyard with pine planks sticking out the windows. We lugged them upstairs, Robert set up some chairs as saw horses, and set intently to work. I sat about being, I hoped, helpful, but soon he asked me, reasonably politely, to go for a walk. I went down to the old Armory near the Niagara River, sat on its wide warm sandstone steps and watched the towering spirals of bugs whirl into the soft humid night air above the neighbourhood's peaked rooftops. When I came home, the bookshelves were finished. Robert was sweeping up the little piles of sawdust, looking triumphant. He had thought he was out of practice, had been anxious to 'prove himself'. We loved the sense of permanence and place the shelves gave. There was room for the stereo, a tall deep shelf for the LPs, and all the rest for books. The rest of the room soon followed: we used a bed covered by an India print for a sofa, I covered cardboard boxes with corduroy, or spray-painted them, for side-tables, and we painted a variety of found chairs. The bookshelves were the most solid and satisfying thing in the apartment. Life formed around them. Not long after, Robert made me a daybed in the kitchen, so when he woke me up with a cup of coffee at an hour I still considered unthinkable, I would have a place to slowly surface. Soon another bookshelf materialized beside it, so I would have a place to keep the books I was reading safe, not lying around, vulnerable. Really, it meant that I would know where to look for them after Robert had picked them up and put them away. On the end of that bookshelf Robert hung a beautiful little Joe Brainard collage, shining blues and silvers, intricate and dear. I loved it. We were home.
Read the full essay--which continues to talk about books--here. Image at top courtesy of the University of Buffalo's Center for Studies in American Culture.