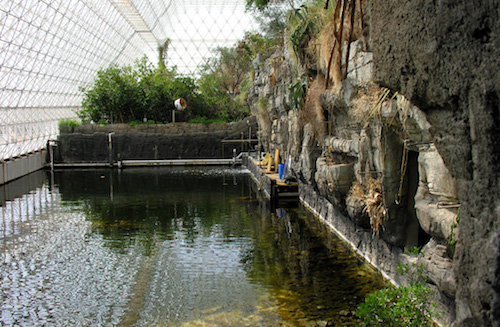 We promised ourselves we would NOT make a Pauly Shore joke because this is just too cool to stoop so low. The University of Arizona has been welcoming poets and writers to the newly opened Biosphere 2 as a way to inspire their writing and to communicate science to the public. Like we said, very cool! From UANews:
Poets and writers had the opportunity to spend two days working and writing inside Biosphere 2 during the Poetic Field Research Performance Weekend. The artists had access to locations within the massive structure such as the desert biome, the "lung," the human habitat, the beach and the Landscape Evolution Observatory, B2's flagship experiment for understanding how Earth's landscapes respond to climate change. The project is supported by the UA Green Fund, the Biosphere 2 Institute, the Institute of the Environment, the School of Geography and Development, and the UA Poetry Center.
Head over and watch a video featuring poets, including Alison Hawthorne Deming, talking about their experience in Biosphere 2.