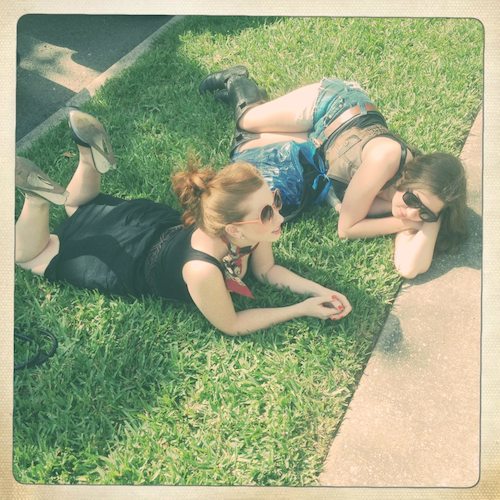 Stylelite has caught on to the tricky emoji poetry of Carina Finn and Stephanie Berger--you'd know these two from, perhaps, The Poetry Brothel; The New York City Poetry Festival, which Berger co-organizes; HTMLGIANT; or Montevidayo (great essay by Finn, btw). The point: Looks like their "emoji poetry" is "quite brilliant"! Writes Hannah Ongley:
For Carina Finn and Stephanie Berger [the] code is emoji. Finn began sending Berger elaborate emoji messages that Berger would then translate into English and send back to her, creating collaborative emoji poems. Berger, who is co-executive director of the Poetry Society of New York and runs something called The Poetry Brothel, explains the process thusly:

"Carina Finn is the type of woman who carries her iPhone around in a pink, purse-shaped, silicone case that says, 'Cliché' on it. She also uses a lot of emojis when she texts. Sometimes, when she plans to send a text, she spontaneously writes a poem instead. As I understand it, that urge to write a poem suddenly came over her as she had her emoji keyboard open in August of 2012. Being best friends and preliminary editors of each other's work, she texted me the poem and asked what I thought. Instinctively, I translated it and texted it right back to her. A few days later, I received another. Again I translated. We carried on for months just like that.

The emoji poems saw us each through a few different lovers, several jobs, three countries, three seasonal wardrobe changes, and even hurricane Sandy. I think of the poems as operating within a kind of secret language between girls; they are filled with our secrets, and only we know the code."
They've published two of the "translations" on Styleite, in both plainspeak and image. Here's one: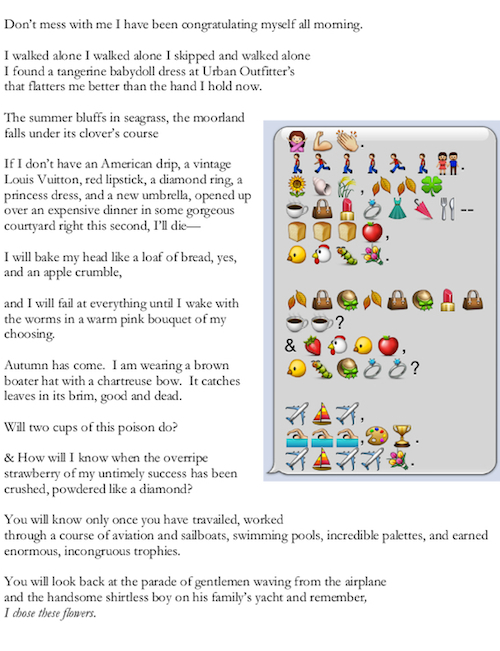 If that's not enough, you can check out more of their emoji poetry at Smoking Glue Gun.