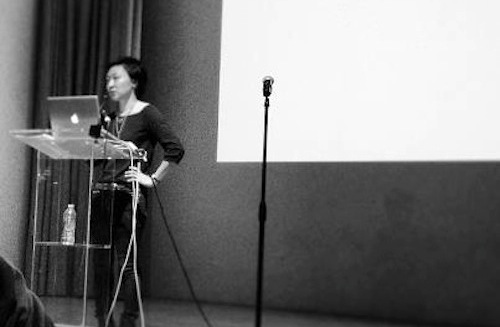 Cathy Park Hong answered the Proust Questionnaire for the Quarterly Literary Review Singapore. "Hers is a universe flitting between ideal and corruption, urbane and cowboy," writes Yeow Kai Chai. Her answers don't flit, though. An excerpt:
4. Name one living author and one dead author you identify with most, and tell us why.
I don't know if I exactly identify with them but I gravitate towards authors who build their own worlds and languages because they're at odds with the ones they live in like Octavia Butler and David Mitchell or Paul Celan, Theresa Cha, and Fernando Pessoa.

5. Do you believe in writer's block? If so, how do you overcome it?
I overcome it through massive amounts of reading, looking at art, seeing movies, going on trips. I need great reservoirs of time to sponge up experiences and reading material. If I were writing all the time, I'd be chugging out the same boring poem.

6. What qualities do you admire most in a writer?
Empathy, wit, and imagination.

7. What is one trait you deplore most in writing or writers?
Pettiness and arrogance.

8. Can you recite your favourite line from a literary work or a piece of advice from a writer?
Berryman once said, "the writer of long poems need gall, the outrageous, the intolerable – and they need it again and again. The prospect of ignominious failure must haunt them continually."

9. Complete this sentence: Few people know this, but I…
Am proudly ambidextrous. I was originally a lefty until my mother forced me to be right-handed so I could fit in with the rest of the world. But my left-hand refused to lie dormant and began to slyly take over activities like drawing, playing pool, eating soup… I still write with my right hand, but I now have a neat party trick where I can write simultaneously with both hands in opposite directions. According to the Internet, ambis are prone to synesthesia, schizophrenia, and bisexuality.
This dualism might lead (messily, d'you mind) to the announcement about a performance Cathy was co-staging for this year's AWP that was abruptly canceled by Seattle's Frye Art Museum. The Museum Director, Jo-Anne Birnie Danzker, told The Stranger that "the potential to cause hurt and harm was just not an option for us." The performance, called Coon Songs, Kitsch, and Conceptual Writing, was created by five artists--Hong, Douglas Kearney, Vanessa Place, Ronaldo V. Wilson, and Daniel Tiffany--in an effort to explore race, ventriloquism, coon songs, language, improvisation. The Stranger posits that the "ethically odious" work of organizer Place might have caused the cancellation. "It may be her specific stance, and her role as organizer, that most frightened the museum off." We imagine it's more complicated? But more from The Stranger article:
When a mixed-race group of American artists and writers planned to revisit coon songs in front of an audience in a performance during the course of the Association of Writers & Writing Programs conference in Seattle next month, the Frye Art Museum agreed to host the fraught event. But when one of the artists, a white woman, posted an announcement on her Facebook page using the title Coon Songs, Kitsch, and Conceptual Writing, and a real historical ad—with an illustration of a ventriloquist and blackface dummy—the museum canceled the March 1 event.

[...]

"Race—among poets and institutions like the Frye museum—is always handled with kid gloves," Hong wrote. She is Korean American. "Discussions are hygienic, safe, and always compartmentalized: Black poets talk in their corner, Asian poets talk in theirs, Latinos talk in their corner, and white poets listen politely or have the luxury to ignore it altogether. We have to be ethically tidy. When it's a mess. The panel would be a trans-racial talk and performance that welcomed the mess, welcomed the hurt, welcomed the absurdity and the contradictions."

The group members designed their event together to be a cross between an earnest intellectual discussion and a dangerously unscripted performance. Each performer could intervene in the conversation at any moment with a performance, and those performances could change the direction of the conversation.

The poet who was chief organizer of the event, who posted the announcement to her Facebook page with the offending image, is Vanessa Place. She is someone who welcomes the hurt.
The group is looking for another venue.
Image at top: Cathy Park Hong at last year's New Museum event "Stand Up," which she organized for their "Propositions" series.