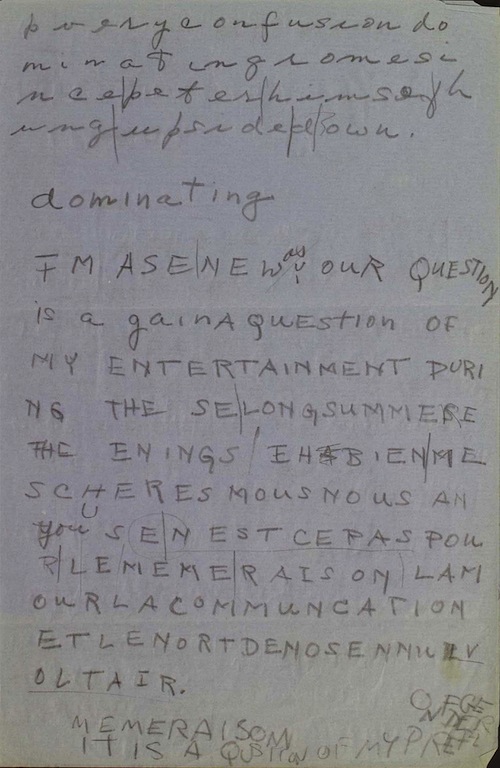 St. Louis Magazine has a nice piece on the digitization of James Merrill's "Ouija manuscripts," which were transmitted to the new James Merrill Digital Archive at Washington University last summer. The archive at Wash. U.'s Olin Library is the largest for Merrill in the world, and includes "3 ½ linear feet of correspondence, 19 linear feet of manuscripts, and 2 ½ linear feet of 'realia,' including a pair of green eyeglasses and Merrill's sterling-silver baby spoon." These Ouija manuscripts are fascinating:
...[A]lmost every night after dinner, [artist David Jackson and Merrill would] consult the Ouija at their milk glass–topped dining-room table. They'd now drawn their own version on heavy cardboard and swapped out the heart-shaped planchette for a blue willowware teacup. The first voice to break through, as Merrill recounts in the 1959 poem "Voices from the Other World," had been "that of an engineer"

Originally from Cologne.
Dead in his 22nd year
Of cholera in Cairo, he had KNOWN
NO HAPPINESS. He once met Goethe, though.
Goethe had told him: PERSEVERE.

Jackson and Merrill's relationship, and their nightly Ouija sessions, would endure for 40 years.
Writer Stefene Russell also looks at "typewritten versions and drafts of what became 'The Book of Ephraim,' the first part of Merrill's trilogy, published in his 1976 Pulitzer Prize–winning collection Divine Comedies. Twenty-six sections of the poem were also scanned last year, and "are drop-capped from A to Z to mirror the alphabetic arc across the Ouija board."
"They were baffled at first about what to make of it," he says. "Seeing the transcription made it very palpable to them that you couldn't just treat this as a poem like any other poem. In some ways, they had to ask themselves, 'Am I seriously reading this poem that was a message from the beyond?'" he says. "Which is hilarious, since the poem is also so wrought. It's so crafted and constructed. There's a way in which he's quite a very traditional poet. And there's throwbackness in him. He knows that he's in Yeats' line.

"So yeah, maybe it's an elegant parlor game," Loewenstein adds. "It's also an odd traditionality. He talks about one of the big traditions in Dante criticism, in the centuries after the Commedia, up through the 17th century. People asked, 'Did Dante really have these experiences? And if he didn't, is the poem worthwhile?'"

That, of course, is the exact flip of the response to The Changing Light at Sandover. And that may be why, when asked whether these things had really happened, whether he actually believed this stuff, Merrill would wittily quote the Ouija board itself: "Yes and no."

______

In 1982, after completing Sandover, Merrill traveled to his friend Claude Fredericks' house in Vermont, lit a roaring blaze in the fireplace, and threw in the Ouija transcripts for "Scripts for the Pageant," the final third of his epic.

"Sandover, as a poem, the central question is, 'Is the world going to go up in flames?' And the manuscripts ultimately do," says Langdon Hammer, Merrill's first official biographer. (Hammer's been working on his book for 12 years, making heavy use of Olin Library's Merrill papers. The biography's slated to be published in spring 2015.) Hammer says that act was stunning for Merrill, a scrupulous archivist who never wasted anything, especially paper. Merrill never explained, though Hammer speculates that he wanted to keep a sense of mystery around the poem and was probably ready to just be done with it. It's also not hard to see why Merrill might want to unburden himself of such apocalyptic material.

Near the end of the epic, DJ and JM, as they're known in the poem, are allowed to hear "God B(iology)," Life itself, singing through the darkness of the cosmos, "ALONE / KEEPING UP HIS NERVE ON A LIFERAFT."

IVE BROTHERS HEAR ME BROTHERS SIGNAL ME / ALONE IN MY NIGHT BROTHERS DO YOU WELL / I AND MINE HOLD IT BACK BROTHERS I AND / MINE SURVIVE BROTHERS HEAR ME SIGNAL ME / DO YOU WELL I AND MINE HOLD IT BACK I / ALONE IN MY NIGHT BROTHERS I AND MINE / SURVIVE BROTHERS DO YOU WELL I ALONE / IN MY NIGHT HOLD IT BACK AND MINE / SURVIVE BROTHERS SIGNAL ME IN MY NIGHT / I AND MINE HOLD IT BACK AND WE SURVIVE.

That small blue teacup had traced an impossibly huge arc from Simpson's SOS to an eerie call for help from God, shipwrecked in space.
Great stuff! Read it all at St. Louis Magazine. Photo at top from Special Collections