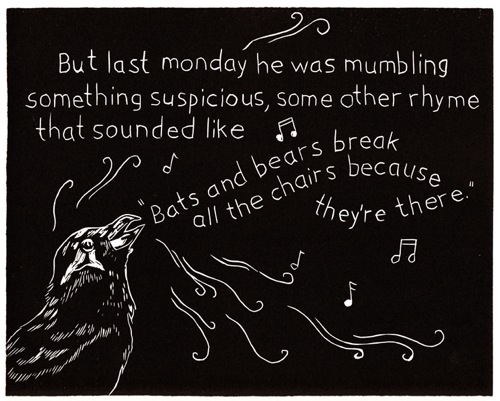 OK! We HEART these picks from Seth Abramson's recent Huffington Post review roundup--especially the much-deserved nod to playwright/performer/costumer Normandy Sherwood's Animals vs. Furniture, illustrated by artist and performer Jesse Hawley, many years in the works, and finally out in trade edition. Also: A new book by Ron Silliman is in the world! Steve Zultanski is a metamodernist! Rachel Zucker has finally embraced the true form of memoir! It's allll in the nuance of juxtaposition, isn't it, Seth:
8. Sherwood, Normandy. Animals vs. Furniture (Ugly Duckling Presse, 2013).

Half impish children's lit, half neo-Surrealist mystery, Animals vs. Furniture is as charming a literary artifact as I've encountered in a very long time. Sometimes it's funny; sometimes it's unsettling; sometimes it rhymes; throughout, the story of a young girl carefully documenting the encroachment of the wild upon her domestic bliss -- punctuated by Jesse Hawley's glorious wood etching-inspired illustrations -- is a page-turner precocious pre-teens as much as seasoned poets can enjoy. The best literature makes us smile as well as furrow our brow; Animals vs. Furniture is the gregariously fun and visually stimulating read we need in a time of militant anti-creativity rhetoric and great self-seriousness.

9. Silliman, Ron. Revelator (BookThug, 2013).

It should be a maxim now in contemporary poetry -- one of the few we permit -- that every new poetry collection by Ron Silliman is worthy of not just abstract celebration but a purchase of the book forthwith. Silliman is a living Great; his work has so often innovated, so often cleared a path for all the work that follows it, that one is almost beyond surprise to discover that the first section of his ongoing epic poem Universe, here styled Revelator, is no different. Silliman, who previously broke us all from the fetters of the line and phrase by developing the preternaturally disjunctive New Sentence, here fractures the space-time continuum by showing that sight (like language) is not (or not solely) an embodied phenomenon. These poems move so fluidly, phrase to phrase, between times and places and perspectives that the title of the project of which they are a part seems entirely apt. Silliman knows, too, the value of the fourth dimension in poetics -- duration -- and so the breathlessness of this short-lined, single-stanza poem (which can't help but call to mind a similar, longer-lined yet equally ambitious and expert project by Frank Stanford) is likewise indispensable. This is by no means an easy read -- there's too much artistry of sound, allusion, and image to allow it -- but nevertheless, few reads (and few poets) are more profitable for those who value ambition in Art above all else.

10. Zucker, Rachel. MOTHERs (Counterpath Press, 2014).

Rachel Zucker's poetic memoir reminds us how empowering the recovery of data lost in the collective and personal archives can be. Using disjunction to superlative effect, Zucker's text begins its investigations with one of our indisputable Greats -- Sylvia Plath -- and from there charts not only the process of its own creation, but also all the disassemblings and assemblings that make up an individual psyche. But just as impressive is the warmth of tone and style in the book's 150+ pages of eloquent prose; Zucker is as talented a memoirist as she is a poet, a feat whose enormity can only be appreciated when one goes (as one ought) back to Zucker's startlingly precise verse as a point of reference. The digressions of MOTHERs are never less than generous and inviting, largely because each is earned -- in full measure -- by its brutal honesty and fierce intelligence.

11. Zultanski, Steven. Agony (BookThug, 2012).

Zultanski's remarkable Agony confirms, with a mountain of hard data that's equal parts humorous and heartbreaking and enthralling, the simultaneous impossibility and necessity of truth. More, Agony forces its speaker and reader alike into an in-between state of unknowing, a metamodern structure of feeling in which sincerity and irony and cynicism and optimism are mere window-dressing in a world finally ruled by the mind's processing of real and speculative data. This is a jointly impassioned and cerebral -- and therefore inexhaustibly human -- work of Art.
Check out all of this edition of Abramson reviews--which also include books by Gina Myers, Norwegian poet Gro Dahle (we almost wrote Dave Grohl, oop), Kate Greenstreet, and more info and excerpts--at Huffington Post.