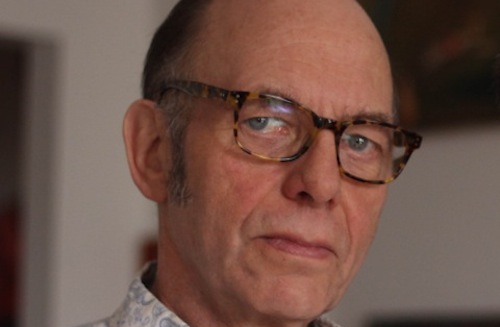 Pierre Joris has "strong opinions about language and its uses"! We certainly hope so. We can always, always use more Pierre Joris. Albany's Times Union reports on the poet-critic-translator-anthologist's return to The University of Albany, where he taught from 1992-2013, and talks to the "provacateur" about poetry and translation. Here's a wide angle:
Q: Why is innovative, avant-garde poetry so important?

A: Because poetry is — at least for me — a way of finding out what you don't know and not a way of reassuring yourself that the very rich, changing, and often scary world around us can be trimmed and fitted into existing, traditional forms. Einstein's or Heisenberg's world (already more than a century old, and yet still problematic for many!) just doesn't fit into the sonnet — or only if the sonnet-form is broken open, exploded, expanded.

Nor am I interested in art as mimesis, imitation (a cheap translation?) as Plato defined it. The aim of poetry is not to imitate anything, but to create a live, processual construct into which all and any information from the inside and outside worlds can enter. (Charles Olson called art and the world "twins.") The only way in which such a work can be said to imitate nature or the world is that it shares the latter's character of incompleteness, of imperfection, of an ongoing becoming — and thus I am also critical of the old concept of the aesthetic masterpiece, of the perfect, finished work of art.

It is in avant-garde poetry and art that such explorations of open form, of new ways of seeing, of exploring new language possibilities arise (but of course the concept of "avant-garde" can and does also get hijacked — especially in the visual arts, where material objects attain a high monetary exchange value — and frozen as aesthetic consumer items in museums and on the private walls of the one-percenters).

Q: Where in the world is some of the most exciting poetry being written right now?

A: Everywhere in the world — except, maybe, in creative writing classes.
Read the full interview here. And if you're in Albany, definitely catch Joris while he's visiting. Details:
A series of events celebrating the work of Pierre Joris

When: Wednesday

Where: Standish Room, Science Library, University of Albany's Uptown Campus

Details: Free

Panel discussion: 2 p.m. Moderated by New York State Writers Institute Director Donald Faulkner, with poets and scholars Robert Kelly, Peter Cockelbergh, Belle Gironda and Don Byrd.

Conversation with Joris: 4:15 p.m. Moderated by University at Albany English professor Tomas Urayoan Noel

Reading: 8 p.m.