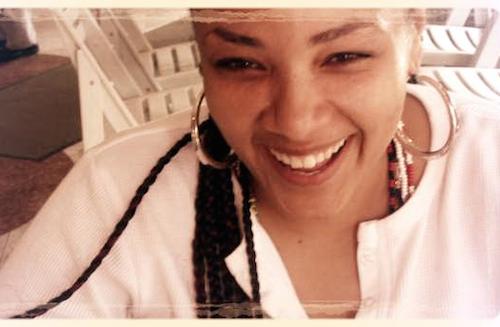 Virginia McClure brings together LaTasha N. Nevada Diggs and Morgan Parker for a conversation at the Museum of Contemporary African Diasporan Arts, freshly published at BOMB.
One brilliant moment from their conversation, here:
VM: LaTasha, you work in several mediums—poetry, dance, music, jewelry—but what do you feel poetry can do that these other mediums cannot? Or, is poetry the "poor" cousin of painting, performance art, and dancing?

LD: "Poor poetry." That's funny because I'm very broke. (laughter) I feel that every medium does something in its own way. Poetry, or writing, in and of itself, takes time—not to suggest that visual artists just throw something on the canvas and, boom, that's it—but there are different types of investments that happen in visual or performance arts versus literature. I've worked with dancers and they are crazed perfectionists. Every rehearsal is to the death. They will bleed that dance piece every rehearsal, every performance. It's a process I bow to. But I once watched a visual artist create a series of 9"x11" paintings within a matter of hours, and he had little issue letting them all go. As a poet, I have a hard time letting go of what I have made. I've also witnessed a visual artist glue glass beads, one by one, onto a canvas. Watching her was like a meditation; I relate to that. But regarding the first artist I mentioned, I wonder if this type of assembly-line method works the same for other folks. I can also say that, depending on the mood, I've done it myself.

So again, I'm not sure. All mediums have elements of immediacy, of politics, elements of the avant, of the conceptual. Of undoing and redoing. Deep thought even when it appears absent. But the question of method reminds me of Flarf, in particular someone I consider a brilliant writer and respect. I can't quote verbatim, but the piece went something like this: I'm going to inject a poem into this ancient bacteria and from that produce a protein that will then re-encode itself into the DNA of bacteria. I sat and listened, like, "Okay? It's fascinating, but when it comes down to it, why do it?" I find nothing wrong with my questioning of its goal, either. We—writers, all artists—ask ourselves, and each other, this question all the time. I was not born knowing my agenda or focus or genre or area of experimentation. What I knew was the question other writers posed to me: What's the point?

MP: Yes, that question is continually asked, not only by others, but aimed at yourself. You can't commit to being a poet or an artist of any kind in our society without questioning your purpose, continually. What is the effect?

LD: I was on a panel a month ago, part of the "Blink Your Eyes: Sekou Sundiata Revisited" retrospective, discussing Jayne Cortez and Sekou Sundiata. They were interviewed together in 2002 for Cave Canem's program "Legacy Conversation." At one point in the conversation, you hear the older generation (Cortez) debating with the younger generation (Sundiata) over why poetry matters and why we risk things. In the panel, thinking of this, I said that one thing we have to realize when we look at the history of poetry—and visual arts too—is that risks were far greater for older generations. Somebody like Cortez—who was 100% invested, whether it be in civil rights, black empowerment, women's rights, human rights—comes from a generation where poets were killed. So the question on replay in my head is: What are we doing?

MP: The social and political legacies of radical actions carry long after violations have happened. Every time a young black girl reads a Nikki Giovanni poem about getting her phones tapped, for example, our work regains its urgency. Just because that sort of thing isn't as prevalent in the US right now, you can't ignore the history of artists as real political revolutionaries. Especially in Black America, poetry is a form of resistance.