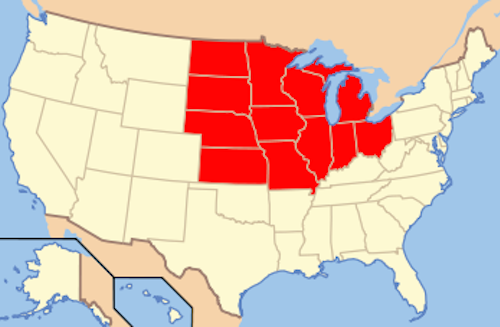 Yesterday Flavorwire let the good word be known that the Midwest is a pretty swell place to live if you're a writer. That's good news for us! Jason Diamond writes:
For those who only look at the bigger picture, yes, New York is the publishing epicenter of the country, and a lot of people who write do live in Brooklyn. As someone who writes for a living and calls Brooklyn home, I can totally back up everything you've heard about thriving independent bookstores, nightly literary events, and writers crowding every coffee shop. Going out means routinely bumping into editors, agents, publicists, and other people who help get new books out into the world, and that gives you every reason to think that New York City is the only place to be if you're a writer.

But it isn't, and I don't necessarily think there is one specific place that is responsible for creating literary culture, just as I don't think there's one where you should go to be a writer. Yet a closer look at the literary map of the 50 states reveals that even if the publishing industry writ large is situated in New York and Los Angeles, some of the most exciting things going on in American literature are taking place in the middle of the country.
Diamond goes on to look at some of the writers, publications, and lit-life that makes the Midwest a great place to throw roots down.
There are the amenities, and then there are the living testimonials: while many do still leave, as Giffels points out, some of our finest writers are living and working in Midwestern cities. The list includes Kyle Minor, Roxane Gay, Adam Levin, Jac Jemc, Lindsay Hunter, Eric Lundgren, Matt Bell, Alexai Galaviz-Budziszewski, and Aleksandar Hemon. Hemon, who settled in Chicago after seeking refuge in America from the war in Bosnia, has written extensively about his adopted hometown. In the essay "The Lives of a Flaneur," Hemon writes about returning back to Chicago after a visit to his native country: "When I came back from my visit to Sarajevo, in the Spring of 1997, the Chicago I came back to belonged to me. Returning from home, I returned home."

[...]

How can you think so little of the middle west when you take into consideration everything that is coming out of places like Ohio, Illinois, Michigan, and Iowa? The writers listed above (and more), lit journals like PANK, the presses like Graywolf, Two Dollar Radio, Curbside Splendor, Dzanc, and Hobart — all of these things make it hard to deny that the Midwest has become a region of serious literary importance. Combine all that with the fact that the cities are actually livable, and it might not be long until you start seeing trend pieces declaring places like Giffels' Akron the new American literary hot spot.
Read the rest of the article, dig on some Midwest writers, and contemplate what one day might be Pennsyhio!