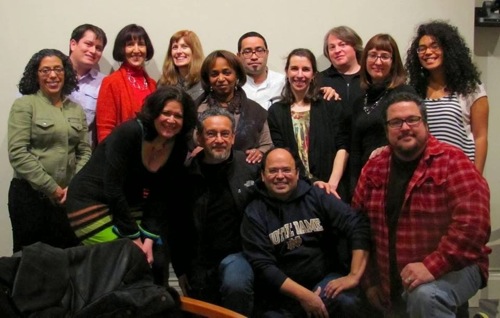 Several weeks ago, 13 poets from Washington D.C. and across the United States converged at the nation's capital to participate in an ekphrastic poetry workshop and an opportunity to write responses to "Our America: The Latino Presence in American Art," currently on view at The Smithsonian Museum of American Art. In this La Bloga guest post, Emma Trelles shares her experience.
...I'm grateful to PINTURA/PALABRA. The creative renewal I experienced during our three days in DC was the perfect anodyne for any writer who has meandered far from her craft, and from the inspiration that can charge it. Work, family, the dull shine of procrastination, or simply staring out the window at the azaleas exploding white along the sidewalk (an essential kind of musing for poets) – any of these divides us, sometimes quite willingly, from writing. Visiting the exhibit, with pen and notebook in hand, I was drawn to a wildly diverse collection of 92 paintings, photographs, sculpture and the like by 72 Latino/a visual artists, and I was able to respond immediately and with little censure or delay.

Camas para Sueños, a gouache on paper made in 1985 by Carmen Lomas Garza, depicts a tender homage to family and the cultural traditions that sustain us. I connected to it immediately, thinking of my younger brother and the hours we spent in the backyard of our childhood home, playing H-O-R-S-E or catching lizards or simply dreaming our own plans for the future.

It's a time I don't think about as much anymore, and it felt important to record some of the painting's intimacy alongside the memories it sparked because my notebooks are the birthplace of so many of my poems.

[...]

The members of our workshop inspired me as well, a creatively curious assembly of Latino/a writers with backgrounds in history, journalism, academia, visual arts, and more. PINTURA/PALABRA was created by Francisco Aragon, a poet, editor, and director of Letras Latinas, and the DC program was led by two extraordinary poets and educators: Brenda Cardenas and Valerie Martinez. Both provided us with a wealth of writing prompts and ekphrastic poems to mull over long before we arranged our chairs around a first floor conference room at the museum and began to talk shop.

Cardenas and Martinez kicked things off with a colloquium at the Library of Congress, where they discussed the multitude of paths poets may take during their ekphrastic travels. "To me," said Martinez. "The artwork is correlative, a place to find resonance. Ekphrasis is a way of arriving to the unexpected when we give ourselves over to language. Because language has its own kind of knowledge." [...]
Continue reading at La Bloga.