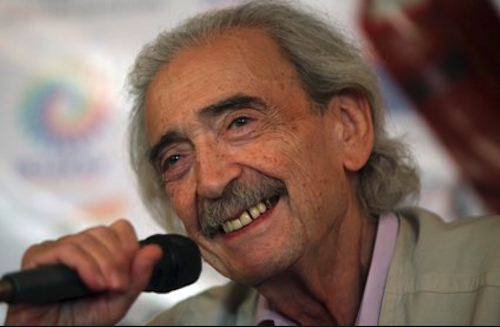 Yesteday the Los Angeles Review of Books published this profile of Juan Gelman, the seminal Argentine poet who died in January. Víctor Rodríguez Núñez & Katherine M. Hedeen recall the last time they spoke to Gelman:
WHEN WE LAST SAW Juan Gelman, on the morning of January 12, just 48 hours before his passing, it didn't seem like death was near. He was noticeably frail, but he also enthusiastically rang a tiny bell to call his nurse. He spoke in whispers, but with precision and clarity. In his wheelchair, a poncho covering his shoulders, a blanket covering his legs, he was dignity personified. He gave us a solemn report on his health: the relentless anemia, the beginnings of lung cancer. He explained his decision to hold out from home, to not go through with chemotherapy. He was well aware of everything, including our translation projects. The conversation never once slipped through his fingers, and as always, his great wit was present. He even spoke of Cervantes, one of the captivity narratives, where he'd found some excellent verses. He offered us coffee, served in lovely china cups, and we gladly accepted. The Mexico City winter light filtered through every cranny of his apartment in Colonia Condesa. We were sure of his determination to fight for his life.
The authors go on to think about Gelman's legacy and the ways he shaped poetry by creating a counterpoint to the work of his contemporaries through spare language of direct communication:
Just as other poets of his time and place, Juan Gelman's art was a reaction to "Post-Avant-garde" poetry, which came to prominence in the Hispanic world during the 40s and broke with the immensely powerful Avant-garde. He dialectically negated the work of Octavio Paz (Mexico), José Lezama Lima (Cuba), Nicanor Parra (Chile), and Alberto Girri (Argentina), among others, to affirm it in his own way. As Benedetti points out, "what changed was the language (it became increasingly stripped-down) and the communicative code (it became increasingly more open). Still there were no great fluctuations in the eagerness to experiment, and even less, in the dogged attempt to reach the very heart of things." Indeed, the emphasis was "on communicating, on getting through to the reader, on including him." This poetry went against the current, defied the established social and cultural orders, and challenged the neo-colonial condition along with modernity's characteristic individualism. Moreover, it rejected the authoritative monologue and the usurpation of the other's voice, and privileged the values and the language of the streets, but without the fanaticism often associated with such a move. It was ultimately critical and self-critical, since it challenged both oppressive social realities and redeeming revolutionary ideals. [...]

With the work of Juan Gelman and his contemporaries, Spanish American poetry became a dialogic discourse. And this discourse turned even more radical in the Argentine's next poetic cycle, with the final sections of Cólera buey ¾ "Traducciones I: Los poemas de John Wendell (1965-1968)" and "Traducciones II: Los poemas de Yamanokuchi Ando (1968)," along with the books Traducciones III: Los poemas de Sidney West (1968-1969) and Fábulas (1970-1971).[3] These texts highlight the use of translation and narrativity, allowing for the creation of an intertwining of voices, a greater democracy within representation. The stories narrated in Los poemas de Sidney West, a supposed translation of an American poet, work as instances of the dehumanization of Argentina's deformed, dependent modernity. During a conversation in 2007, we asked Gelman where all these characters ¾ their names and stories ¾ had come from. He confessed, "I'd closed myself off in a kind of intimism. [...] So I thought I'd make up some poets to see if I could get going again. And then they appeared, one was English, one Japanese, and the other American [...]. These poets were definitely not me. It all came from my imagination, the names and the situations."
Head over to LARB to read the rest.