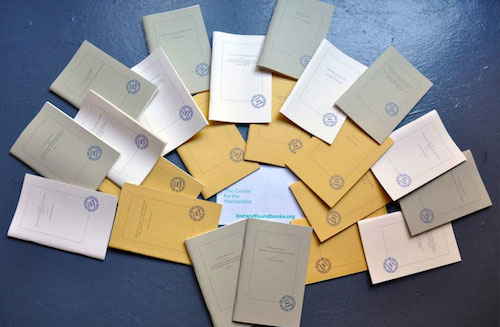 Lost & Found: The CUNY Poetics Document Initiative is back and launching its fourth series at New York's CUNY Graduate Center in Room C198 on April 3. The projects for this round are amazing. Hmm?
Thursday, April 3, 4pm

Lost & Found Series IV Launch

Ammiel Alcalay, Iemanjá Brown, Emily Claman, Stefania Heim, erica kaufman, Bradley Lubin, Kate Tarlow Morgan, Kristin Moriah, Conor Tomás Reed, Talia Shalev, Wendy Tronrud, Kyle Waugh

Join us for a celebration of the publication of Lost & Found: The CUNY Poetics Document Initiative Series IV, an award-winning, internationally recognized publication of original research and extra-poetic work edited by Graduate Center students and faculty. Editors will read, perform, present multimedia, and discuss their projects, which include the Pauline Kael and Robert Duncan correspondence; a film script by Ed Dorn intended for Stan Brakhage; Adrienne Rich's CUNY teaching materials from the early years of Open Admissions; Before Gloucester, portraying poet Vincent Ferrini's years as a factory worker, and After the Harlem Renaissance, the later poems of Helene Johnson. Lost & Found Series IV will be available for pre-publication purchase.

Cosponsored by the PhD Program in English. This project is supported in part by an award from the National Endowment for the Arts.
While you're there, don't neglect the CUNY Chapbook Festival. From April 1-3, you can attend workshops, readings, Public Access Poetry screenings and, of course, the bookfair. Publishers there will include:
No, Dear
The Operating System
Organism for Poetic Research
Overpass Books
Peaches & Bats
Phantom Limb
Poetry Crush
Poets Wear Prada
Portable Press at Yo-Yo Labs
press-press-pull
Projective Industries
Publishing Genius
Purgatory Pie Press
Slapering Hol Press
Slate Roof Press
The Song Cave
Sunnyoutside
Swamp Books
Toadlily Press
Trace Editions
Trafficker
Ugly Ducking Presse
Well Greased Press
Whitewall of Sound
Yale Union
And that's just N through Y! Find the full list at the CUNY Chapbook Festival website. For more info, we might repoint you to this 2012 interview with poet and festival co-organizer Sampson Starkweather (that photo's really got legs).