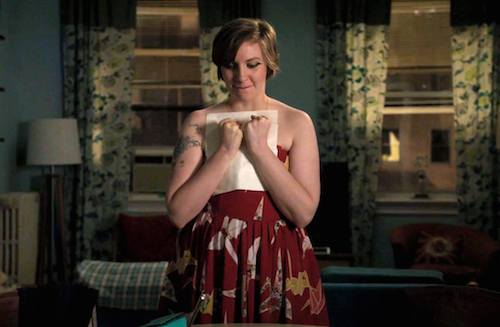 It's Friday so we're talking television. This week, Hannah Horvath—the protagonist on the HBO series Girls—earned an acceptance to the famed Iowa Writers Workshop. At New York Magazine, Lan Samantha Chang—the director of the Iowa Writer's Workshop—and a few Iowa alums—join Boris Kachka to discuss the road ahead.
The first thing Lan Samantha Chang, the director of the Iowa Writers' Workshop, wanted to do when she found out Hannah Horvath got into the prestigious MFA program was to phone the heroine of HBO's Girls and offer advice. "I thought, I should give her a call and explain about what's involved," says Chang, who calls every prospective student personally. "And then I thought, No, she's a fictional character."

The most shocking twist of Sunday's season-three finale wasn't Hannah's acceptance, after years of artistic floundering, but the notion that Season Four of the world's Brooklynest show might take place in Iowa, at what Hannah's friend Marnie calls "like, the best MFA program in the world." A University of Iowa spokesman says the school denied HBO's request to film Girls episodes there, but the location could easily be faked, and the presence of an Iowa workshop alum on the writing staff — Sarah Heyward, who wrote "really good short stories about adolescent girls" in Chang's workshop — ensures at least a modicum of authenticity. Based on conversations with Chang and several Girls-friendly alumni, here's what we might expect of Hannah's heartland sojourn. [...]

Hannah may fear the flat, square heartland, but the Workshop's slice of it isn't all that different from Greenpoint. "There's a real pipeline between Williamsburg and Iowa," Chee says. "PBR isn't ironic in the Midwest, it's what you can drink. Hannah will go to the Foxhead Bar," the Iowa City haunt of the fiction students (poets prefer George's), "and there'll be this constant flow of published writers." She'll meet people from her past and cultivate her future. "In grad school, you get a cohort, who more or less you'll see for the rest of your life, at parties, in book reviews, in institutional settings." Those future parties, of course, are mostly back in New York.

If anything, Iowa will broaden her horizons (and Girls'). Girls has been criticized for its predominant whiteness — not a situation that relocating to Iowa would improve. Or so you'd think: Roughly 20 percent of this year's workshop students are African-American. "My roommate was from Mumbai, and there was a really cool group of Caribbean writers," says La Force. "I definitely met people I would never have met in New York. A real veteran was in the class above me." For Chee, Girls is about the decline of white privilege, and Iowa plays right into it. "The kind of ego you need to be a writer is a lot like what white privilege looks like," he says, "but it's much stronger if you earn it. If you can imagine Hannah in a class with the next Yiyun Li or Ayana Mathis, then you have an idea of what is happening next season."
Read the collective musings and possibly conjure a few of your own, while at the Vulture's desk at New York Magazine.