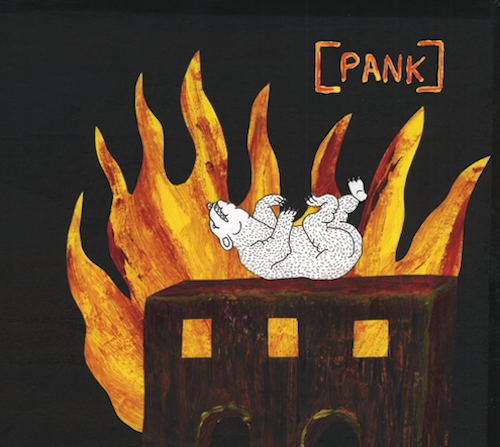 As long as we're spreading some Midwest-love today, at Western Herald: it's PANK!
Michigan has a rich literary tradition, ranging from Hemingway's early stories about Michigan's wilderness to contemporary writers like Bonnie Jo Campbell keeping the state on the map. From writers to presses to literary journals, the beautiful vistas and traditional values of Michigan living continue to inspire writers to this day.

PANK magazine, a literary journal and small press based out of the Upper Peninsula, is an integral part of the contemporary literary scene in Michigan as they continue publishing forward-thinking work from writers both new and established.

PANK Magazine was founded by current editor M. Bartley Seigel in 2006. [...]

Seigel, who is also an associate professor of creative writing and diverse literature at Michigan Tech, recounted his founding of the magazine at Michigan Technological University: "When I showed up there wasn't even a magazine [...] there was just a funding line. I wasn't able to get my hands on a copy of what they had before. I think it was an undergraduate literary magazine or something, but I was never able to get my hands on anything. So [...] we started from scratch." [...]

On its website, PANK uses its about page to describe itself as a magazine whose purpose is to, "fosters access to emerging and experimental poetry and prose, publishing the brightest and most promising writers for the most adventurous readers," something that Seigel is quick to elaborate on.

"A lot of magazines play it safe, and I wanted it to be grittier and edgier. But I also wanted it on the level of national publications. I didn't want it just be a website or somebody's WordPress page. I wanted it to be a legitimate literary magazine that was doing slightly more experimental work [...] If you pick up a copy of the Iowa Review or Michigan Quarterly Review and you kind of know what you're going to get. What you'll get is going to safe—it's going to be good, but it's going to be pretty tame. I'm always looking for work the depicts the world in the way I see it, work that's a little rough around the edges, work that takes a good look at sex or drugs or rock-and-roll."

After a small pause, he adds: "We want to depict people's lives as they actually live them as opposed to how literature often tries to portray them living."

The press is run through Michigan Technological University, a fact that Seigel admits is a bit unorthodox. "PANK as a national and international avant-garde literary publication is outside the STEM wheelhouse of the institution [...] It helps since we don't have inner faculty scrambling for the project or MFA candidates scrambling for a place in the project. I think it's a phenomenal opportunity and one that's a little unprecedented for a literary magazine like ours. And I think because it's a school that's so focused on things outside of artistic productions it's also forced us to think a little differently about our own production. We're having a different kind of conversation with our colleagues. We're not just talking about books, we're talking about engineering and chemistry. It adds to our perspective."
Read more at Western Herald.