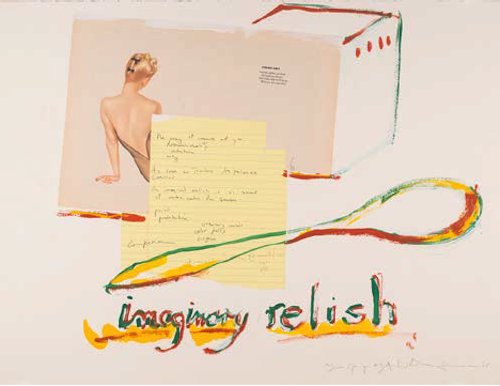 As you dear reader may have guessed (from this this and this), we're big on poets working with painters and painters with poets. So we're excited to see another exhibition bringing the two parties together, this time at Poets House with George Schneeman as the locus. Here's what it's all about:
Poets House presents A Painter and His Poets: The Art of George Schneeman. On view April 22 through September 20, this exhibition is the first major retrospective of the painter's collaborative works with prominent poets of the second-generation New York School, among them Ted Berrigan, Anne Waldman, Larry Fagin, Maureen Owen, and Michael Brownstein. A full-color brochure will accompany the exhibition, featuring new essays by Bill Berkson and Peter Schjeldahl as well as an excerpt from Alice Notley's 1978 interview with the artist.

Curated by Bill Berkson and Ron Padgett, two of Schneeman's close friends and collaborators, the exhibition gathers life-size portraits of poets on canvas, some of them nudes; collaborations using magazine clippings, handwritten poems, and a wide range of art materials; fresco portraits of Allen Ginsberg, Waldman, John Godfrey, and others; book covers; and other treasures from the artist's estate.
If you're in New York toward the end of April, or traveling there, you'll want to check out these events:
Exhibition Events:
Tuesday, April 22:
• 6:00-8:00 p.m.: Opening Reception

Saturday, April 26:
• 3:00-4:30 p.m.: Poetry reading with Michael Brownstein, Larry Fagin, Alice Notley, Maureen Owen, Harris Schiff, Anne Waldman, and Lewis Warsh, introduced by Bill Berkson.

• 5:00-6:00 p.m.: Panel discussion with Bill Berkson, Larry Fagin, Alice Notley, Maureen Owen, Peter Schjeldahl, and Anne Waldman, moderated by Ron Padgett.