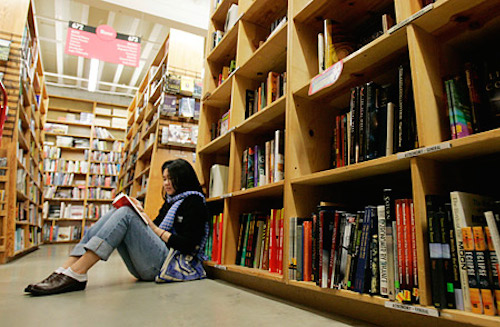 In response to a recent New York Times article lamenting the dwindling booksellers in Manhattan—which we linked to yesterday—the New Yorker's Rebecca Mead weighs in on the state of things for bookworms in Manhattan and beyond.
Thank goodness, then, for cattle class: the outer boroughs. As Emily Gould, the outer-borough novelist, tweeted this morning, "that bookstores article could just as easily be titled 'independent bookstores thrive in Brooklyn and Jersey City.' " Word Bookstore, a successful independent in Greenpoint, is indeed opening a second store in Jersey City. Greenlight Bookstore, in Fort Greene—my current local—is such an exemplar of Brooklyn literary energy that entering its doors can feel like wandering into a Noah Baumbach movie, one centered around two young freelancers who meet at a reading group, their relationship sparked by an argument over whether next month's choice should be Jonathan Lethem or Jennifer Egan.

But therein lies a problem, too. Those of us who cherish our local bookstores do so not simply because they are convenient—how great to be able to run out for milk and also pick up the new Karl Ove Knausgaard!—but also because we feel a duty to support them, because we believe in their mission. When books can be bought so cheaply online, or at one of the dwindling number of discount retailers, paying more to shop at a local bookstore feels virtuous, like buying locally sourced organic vegetables, or checking to see if a T-shirt is made in the U.S.A. It can be gratifying to the point of smugness to feel that one is being pluralistic, liberal, and humane; shopping at an independent bookstore may be one of the diminishing opportunities to experience that feeling in first-class New York City. Still, when I consider the vanished bookstores of Manhattan, I mourn not just their passing but the loss of a certain kind of book-buying innocence—a time when where one bought a book did not constitute a political statement, and reading it did not feel like participating in a requiem.
Read Mead's post in its entirety at New Yorker.