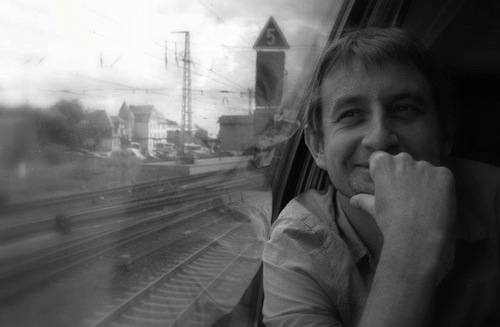 Over the weekend we were sad to read about the injuries Serhiy Zhadan, the Ukrainian poet and counter-cultural writer, suffered during a protest in Kharkiv, Ukraine's second-largest city. Sally McGrane reports at the New Yorker:
"Friends, with me everything is okay," read the message posted on Facebook by Serhiy Zhadan, Ukraine's most famous counterculture writer. A few hours earlier, photos of his face, covered in blood, had circulated on the Internet, and friends and fans were worried. He described his injuries: "Cuts on the head, eyebrow dissected, concussion, broken nose suspected."

On Saturday, pro-Russian demonstrators stormed the regional state administration building in Kharkiv, Ukraine's second-largest city, which is in the northeastern part of the country, not far from the Russian border. In the city's central square, protests against the regime of President Viktor Yanukovych, who was closely aligned with Russia, had been taking place every day for three months. After protests in Kiev in late February became increasingly violent, with government forces shooting into crowds, Yanukovych fled the country; soon after, Kharkiv's pro-Russian mayor and regional governor disappeared. Last weekend, locals who are against the country's turn away from Russia came out in force to counterprotest. They were joined by agitators who many observers suspect were bussed in from Russia. (As in Crimea and other parts of Ukraine, pro-Russian forces are not always who they say they are.) Armed with bats, the pro-Russian demonstrators attacked the mostly college-age activists who had occupied the building on Freedom Square.

One of the occupiers was Zhadan, who lives in Kharkiv and has thrown his energy behind the city's protests. As the attackers were hitting him, the writer said, they told him to kneel and kiss the Russian flag. "I told them to go fuck themselves," Zhadan wrote, on his Facebook page.
Although Zhadan reports on making a recovery, he's returned to the hospital because his jaw has not been healing properly. He writes via Facebook: "It's very simple [...] I don't want to live in a country of corruption and injustice. I, like millions of other Ukrainians, would like to have a normal measure of power. A dictatorship is not normal, and people who don't protest injustice, they have no future."
Read more about Zhadan's life and writing at the New Yorker.