In which I talk about reading UNDERCASTLE & Feliz Lucia Molina talks about making UNDERCASTLE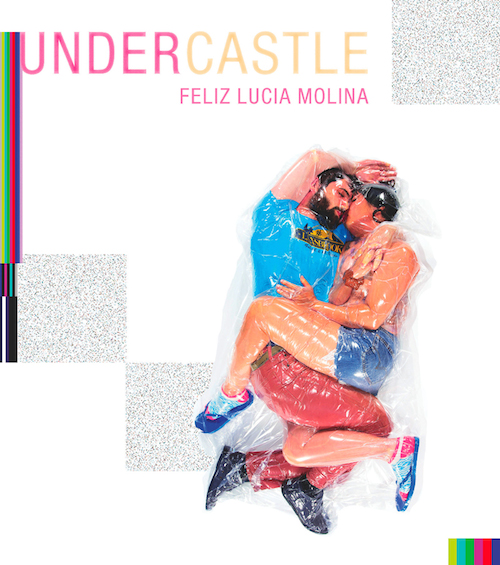 Divya: Reading UNDERCASTLE
This is a travelogue in a parking lot written in the first person point of view. I am reading Feliz Lucia Molina's book. I am reading poetry between bouts of Doritos couched like a total douche in my Dad's Lexus wearing my suburban perma-tan in the parking lot of the notorious hovel of large-scale satisfaction for professionalized immigrants: COSTCO. This book is my coordinates: the latitude of my lassitude, the longitude of my longing for nothing in particular.
Hegel could never have known the Phenomenology of the Dorito—Feliz might. I walk through UNDERCASTLE's strip mall pastoral painted with Red 40, Yellow 5, Yellow 6; I relish in the salty-tart impasto of corn syrup solids, the chiaroscuro of neon on a canvas of jersey knits, framed by the wholesale comforts of Amrika.
The sublime landscape of this book—donut shops, Sunglass Huts, and Gold's Gyms—is littered with front-yard flamingoes and so many sweat-pant-wearing subjects. I search with Feliz for the fantasy of "Hologram Lover Hotel somewhere in obvious France," "run around barefoot through the wireless pear trees," measure the distances in "acres and heartaches" and am embarrassed about all of this. How stupid would it be to rhyme excess with Lexus, right? What happened to my fear of the carbo-coma, the new Grecian Urn of dietary somnambulism after PANDA EXPRESS gets me all choked up, man? The immanent critique of fat, sugar, salt, Adorno, Sontag, Marx, fat, sugar, salt. Green Sally up, green Sally down, if you hate it, fold your arms; if you love it, clap your hands.
Feliz roves, I stay in the parked car. Martin Heidegger walks through the Black Forest Mountains, over the rugged gneiss and granite, and drafts Being and Time in his three-room cabin—die Hütte. Samuel Taylor Coleridge and William Wordsworth walk through the Autumnal tumble of Cumbrian Lakes from the King's Arms to Pooley Bridge; avoid the "deformities of urban life"; and write some stuff. Gertrude Stein ambles along the long route home to rue de Fleurus from Picasso's studio in Le Bateau-Lavoir on rue Ravignan, and composes Three Lives while Picasso composes her figure, sitting in heavy, linen stillness. Feliz Lucia Molina takes the "escalators pushing upward to heaven or the parking lot" and listens to Papa listening to imitation-Elvis at the McDonald's drive-thru and ordering imitation-food. She travels by "dragg[ing] an arrow up and down the columns of cities around the world" on Craigslist.
Feliz's compositional landscape is a vista of visas—Ibiza, Buenos Aires, "Italy Italy", Paris (Las Vegas), a California "covered in miles of cemetery and rusty afterglows of strip club billboards." It is Strip Mall Heaven. As I said, this book is my coordinates. Her Papa listens to imitation-Elvis. My Papa listens to imitation-Englebert Humperdinck (they were born twenty years apart in the same town—Royapuram, Chennai, India—and are forever tethered by the long-sideburn umbilicus of the early 70s—an umbilicus replaced by yards of magnetic tape, Twizzlers, miles of ocean for us, the children of children born in Immigranaries across Amrika).
The Lexus GX-460 ("more than a vehicle; a solution") in which I read UNDERCASTLE is conspicuously missing the totemic Virgin Mary statuette or Sacred Heart dashboard ornament that all good Catholic immigrants use to supplement the luxury car's Total Human Model safety feature and dual-stage airbag system. Where is the dangling rosary? The slopey blue-eyed worry of the Christ-face? The thorny heart glowing in his pale palms? Molina's book offers me an alternative, practical Indulgence to buy forgiveness for this blasphemous chariot (I remind myself to remind my Dad about this). According to the Indulgentiarum Doctrina of 1967, the Catholic Church will afford an indulgence to me if a believer i) Piously read Sacred Scripture for at least half an hour or ii) Adored Jesus in the Eucharist for at least half an hour. I have another hour or so and I opt for continued reading of UNDERCASTLE and adoring all the Holy Amenities of Amrika in Feliz's new hagiography.
Feliz's hagiography is written for those left behind; those who didn't get their Transcendence Robes back from the tailors in time, didn't roll the rock back soon enough. Feliz studies the new Saints of Strip Mall Heaven: the "Saint Dymphna patron saint of xanex, Saint Anthony patron saint of lost things, Saint Lucia patron saint of contact lenses." She doesn't tell us how the hands are folded in prayer or how the hem skirts the flagstones when the knee genuflects. But she does tell how the visions of John Stamos in tight jeans flutter towards her while the hymns of Teddy Ruxpin ventriloquizing MC Hammer echo in the new Cathedrals of foreclosed Blockbusters.
I meditate on the Visions of Saint Feliz: "Veronica/ that sorrowful hoodrat/ weeping into the Shroud of Turin/ with a dirty American Apparel t-shirt", the "Giorgios jogging in Gucci loafers smoking Arabian cigs" like "saints in the wrong century"; the "immaculate bodies…on elliptical machines." I read out loud the Epistles of Saint Feliz, written to Archangel Michael in "black Sharpie marker" in the public toilet of a Casino "below someone's outdated telephone number/ below a <3+forever// near a soft cock with wings," to improve the Costco Urchins. In the new hagiography, All Penises Go to Heaven. Thank god.
Into the trunk of the Lexus, my family piles in the discounted socks and gallon-size Lubriderm and the ten-dozen pack of sugar slosh. Having a Coke with Feliz's UNDERCASTLE is even more fun than being sick to my stomach the Travesera de Gracia in Barcelona. The Thruways of Grace in these damned parking lots off the I-80. Actually, it is way more than that amount of Fun. O'Hara could not have known how much fun it would be to Have a CokeZERO With You, but Feliz does.
Feliz: Making UNDERCASTLE
I don't know what the concerns of Undercastle are exactly. For me, television and movies came before poetry, but poetry also came like the sun. When I was a bored four or five year old I would stare at the sun until I would hallucinate. This big bright thing that was there that no one knew anything about. It's still there and it still feels like no one knows anything about it. The sun, I mean. If you ask why "Undercastle" is the title—I liked it as a neologism. Under subverts castle; a collision of queens and rats; a crown made of Cheetos; raising one eyebrow while keeping the other one low. UNDERCASTLE is in conversation with people, places, times, poets and thinkers I have loved. I try hard to make that love last. It's easy and hard loving ghosts.
Some parts of UNDERCASTLE are from blogs I co-authored: Hair Hearts Flip and Nail Hearts Clip (2006-2010) and The Castle Project (2008-2010). Sometime in 2010 Kenny Goldsmith suggested to combine all the blogs into one. I couldn't figure out how to combine my posts from all three messy blogs so I edited my posts in Nail Hearts Clip and Hair Hearts Flip. Nail Hearts Clip eventually became Strip Mall Heaven which was made into a chapbook and appears as the first poem in UNDERCASTLE.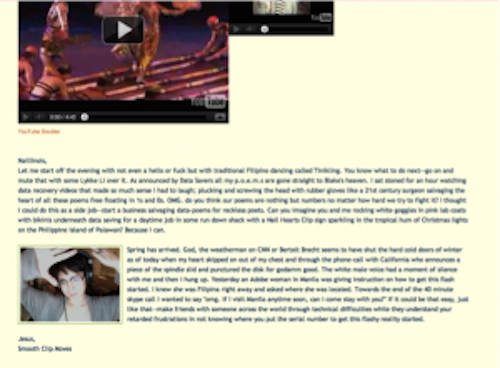 Some parts of what eventually became UNDERCASTLE began from these blogs. The process was bloggy (public, performative, time stamped). The blogs were treated like houses shared by two. Hair Hearts Flip is catalogued as GPDF075 in Gauss PDF. Nail Hearts Clip: An Epistolary Fantasy Blog is catalogued as #58 in Publishing the Unpublishable at UbuWeb. I deleted all of my original posts in Hair Hearts Flip and spent a couple years revising what is now in Gauss PDF. I wrote poems outside of the blogs and didn't send them anywhere because I wasn't sure if I loved or hated them.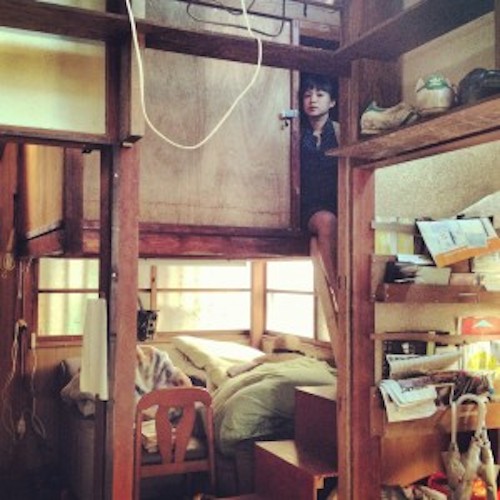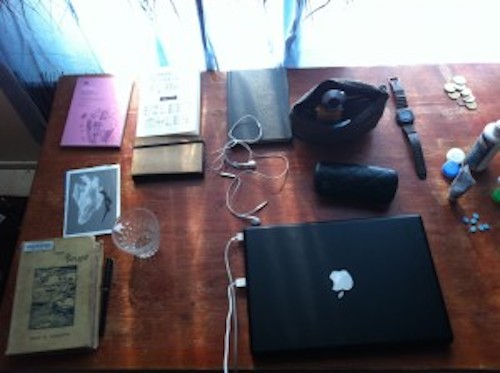 For about five years I revised most of the poems and prose in UNDERCASTLE. I wrote while traveling, working, and living between Providence, Brooklyn, Toronto, Barcelona, Saas-Fee, Marnay-sur-Seine, Buffalo, New Hampshire, San Diego, Los Angeles, and elsewhere.
All of this with one suitcase and handbag. I travel lightly with books and clothes. I was on the move with never enough sleep because of an over active dream life or occasional sleep paralysis. The poems were places to begin and end something; camera shutters that open and close. Writing is dying. Conversations with texts happen with shadows or ghosts, don't they?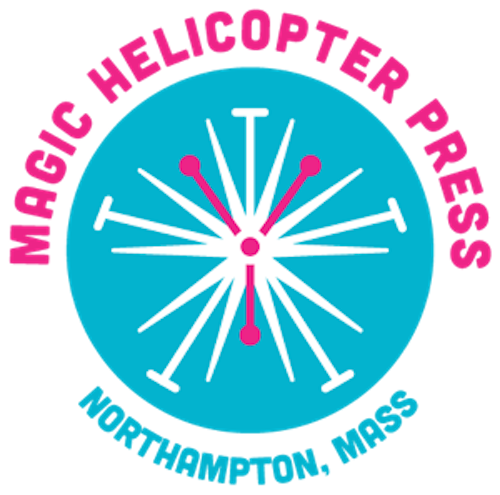 I wrote to Mike Young at Magic Helicopter Press and he said he wanted to "get this puppy out into the world" and he did and I'm surprised that years of writing and wandering can condense into lines, poems, pages bounded by a cover or blanket to keep it all together, if that is what a book is. I thrive on the idea that a book is a thing to be continuously discovered, that I don't know what a book is, if a unit of anything (time, physical objects) can be thought of as book, if a unit is immeasurable, if there is such a book that is imperceptible.
It just felt like the right thing to do to contact Magic Helicopter Press. Mike was the best poet/editor/human being to work with because he saw how the poems & prose could work together as a whole. He saw its messy potential. Mike was open to all revisions and just kind of hung out and let me email him dozens of drafts over the span of a little over one year. I think we chatted online twice about Undercastle and the rest was done over emails. It felt like I just walked into his house while eating Doritos and was like, "hey, i don't know you but i wanna show you this thing" and he was like "sure, okay." It felt like that. But it never felt like I overstayed. I just kept crashing on his couch. And now that whatever I wrote in a five-year period is a book with one cover holding it all together, it all feels officially dead. They were more alive floating around vulnerably without a page count. They died when they stopped getting revised and stopped becoming.
Reading List in the Making of Undercastle
The Invention of Glass by Emmanuel Hocquard.
"The Writing, Always the Writing" by Hélène Cixous.
Alice Notley's interview at Jack Kerouac School of Disembodied Poetics at Naropa University.
On Seduction by Jean Baudrillard.
"After Mallarme" by Robert Creeley.
 The Society of the Spectacle by Guy Debord.
 The Selected Letters by Federico Garcia Lorca and David Gershator
***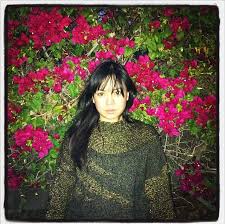 Feliz Lucia Molina was born and raised in San Fernando Valley, California. She has lived in many places since then. Her books and things include UNDERCASTLE (Magic Helicopter Press), Hair Hearts Flip (Gauss PDF), Kim Jong-Il Looking at Things (Gauss PDF), Nail Hearts Clip: Epistolary Fantasy Blog (UbuWeb), Roulette (Electronic Literature Organization, ELO Vol. 2). With Ben Segal and Brett Zehner, she co-wrote a collective epistolary novel The Wes Letters which is due out this April from Outpost19. A collaborative book of poems with Ben Segal, The Middle, is also forthcoming.
A friendly fellow of Kundiman, she has lived, worked, and played at The MacDowell Colony, CAMAC Centre of Art, Mustarinda House, and Haisyakkei. She has studied with poets, philosophers, and artists at Naropa University, Brown University, and European Graduate School. She  edits for Continent. and Entropy, occasionally letterpresses chaps for Museum of Expensive Things, and is putting together HANDS, a journal of poems typed and handwritten. She lives in Los Angeles and keeps stripmallheaven.tumblr.com & houseofdrawingstoo.tumblr.com
Divya Victor is the author of Kith (Fence, 2017); Natural Subjects (Trembling Pillow Press, 2015), winner of the Bob Kaufman Award; Things To Do With Your Mouth (Les Figues, 2014); Partial Derivative of the Unnameable (Troll Thread, 2005); and Goodbye John! On John Baldessari (2012); and the chapbooks UNSUB (2014),...