In which I talk about reading EXTRIGUE & Shiv Kotecha  talks about making EXTRIGUE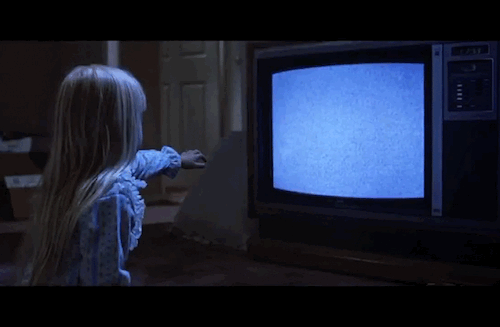 Divya: Reading EXTRIGUE
Everywhere—at the Jewish Community gym locker rooms and on the NFTA train from Allen Street to Delavan station—signs sing: IF YOU SEE SOMETHING, SAY SOMETHING.
I read Shiv Kotecha's EXTRIGUE in these places where I'm supposed to see things and say things. These are my instructions. I am, however, like that tow-headed girl-child in front of the seductive static in The Poltergeist. The signals are coming through. All I can say is: They're here.
THE FANTASTIC EKPHRASTIC STATIC.
I read EXTRIGUE and I find myself reaching for a mental abacus, feet jittering, fingers nervously tapping a syncopated tally on my desk every time an object pops into recognition—which is every time. Shiv seems to be giving me an account of something by counting it—this is precisely the gap between witnessing and watching, is it not? Shiv signs: IF YOU SEE SOMETHING, MAKE POEM.
In EXTRIGUE, familiar objects appear bathed in ink or dusted with charcoal or ashy with matt light or hi-lit and glossy. Onebyone, reallyfast.
GRAY A HAT A SHIRT A NOSE AN EAR A PROFILE A SUIT A HEIGHT A LAMP THE SHADOW OF A LAMP A WOMAN A BLOUSE A CRACK IN A WALL A DOOR THAT CLOSES A MAN IN THE HOUSE 2 LIGHTSWITCHES A LIGHT SOURCE THAT HITS THE WALL
Everything is numbered:
A CORNER 17 OR SO LIGHTS 2 POLES 4 BUILDINGS WITH SEVERAL COLUMNS EACH 5 PARKED CARS 2 MAILBOXES A CLOSE CALL FALLING MAIL
Everything is in ALL-CAPS.
EXTRIGUE is actuarial: it keeps accounts.
But.
EXTRIGUE is also alchemical: it changes the nature of things; it makes them shape-shift.
Everything looks like something else:
HANDS THAT CAN POINT EYES THAT CAN SEE A HAND THAT CAN TURN INWARD A RIGHT ARM THAT CAN EXTENDS A HEAD THAT CAN BOB A CIGAR THAT CAN BE LIT
Shiv's poem seems to counter the inherited model of perception that accounts for the pantomimes of objects in William Carlos Williams's Spring and All:
"One by one objects are defined- /It quickens: clarity, outline of leaf."
It offers us, instead, the cubist diffraction of Gertrude Stein's uncanny description:
"The place was shown to be very like the last time. A piece was not exchanged, not a bit of it, a piece was left over. The rest was mismanaged."
This is the familiar divergence, Das Unheimlich maneuver—A hat is a hand; a hand is a hat. My reading continuously falls apart through EXTRIGUE like an anatomist lost in a warehouse of spare limbs for Hans Bellmer's Die Puppe; like an obsessive census agent seeking citizens in a world where subjects are just grey-scale SPAM amalgams. The things I thought I knew become terrifyingly ungraspable-- their arrangement next to each other merely prepositional and preposterous. The complex narrative of intrigue becomes a mere pose for morose so and sos—it becomes extrigue: intrigue undone.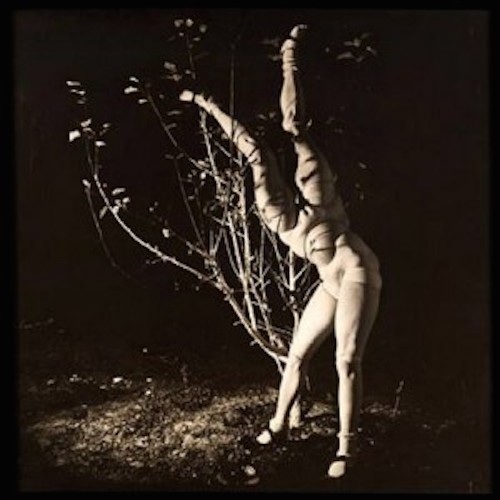 This is in part result of process and because EXTRIGUE makes still that which should be in movement. Cinematography—the writing of movement—returns to the ultra-slow development of silver-plate daguerreotype process.
EXTRIGUE repeatedly presses PAUSE on the noir classic Double Indemnity by Billy Wilder, the director who fled Berlin for Paris and Paris for Hollywood and went on to light Barbara Stanwyck and Fred MacMurray through venetian blinds and with lit matches. IF YOU SEE SOMETHING, MAKE A FILM.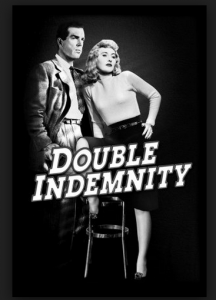 Through the poem, the pleasures of pressing PLAY are replaced by the pleasures of pressing pause. If the items (numbered) in EXTRIGUE resemble Objects, Rooms, and Foods we've grown accustomed to in Stein's Tender Buttons, it is because PAUSE is the tenderest button of them all. She never could have known.
41. A SCALE A DOOR WITH TEXT KEYS A PHONE BOOK A MAP BLINDS A MAN WITH DISHEVELED HAIR A MAN GOING BALD A MAN WITH A HAT A LIFTED HAND CUFFLINKS A DOUBT A DOOR THAT CLOSES A MOUTH THAT OPENS WIDER THAN THE REST

42. 4 SLENDER LEAVES ON A SINGLE PALM FROND A LARGE WINDOW A LARGE MAN A VEST A POCKET A WATCH A POINTED FINGER AN EXPANSION A CIGAR

43. 3 BUTTONS AND A MISSING BUTTON

44. HANDS THAT CAN POINT EYES THAT CAN SEE A HAND THAT CAN TURN INWARD A RIGHT ARM THAT CAN EXTENDS A HEAD THAT CAN BOB A CIGAR THAT CAN BE LIT
(Should I say 'cinema given an enema'? I shouldn't.)
There is something to be said about the panic this poem seems to cause in the reader. But I do not know what this something is, yet. I confess this, in lieu: I decide to cross-reference the film to the poem. I sync my PDF reader and my YouTube screen like dizygotic twins and watch them box for intrauterine dominance. I fail to cross-reference the film and the poem. I try again. I fail worse. I know that this is not how the scene will break apart in front of me were I to watch it, but relentlessly, it shatters in shards of light and shadow, the violent chiaroscuro of Shiv's parsing of body from wall; wall from table; table from hand; hand from cigarette. Everything is right here, and everything is falling apart. This is the poem.
Jean Pierre Chartier—the man who coined the term "film noir" (along with Nino Frank)—fretted about Wilder's rendering of Double Indemnity with Raymond Chandler, saying that he could not imagine a "storyline with a more pessimistic of disgusted point of view regarding human behavior." Noir aesthetic essentially returns chiaroscuro to film. Low-key front-lit figures stripped of all fill light—illuminate fragmented faces and spaces of unfleshed out characters that we know nothing about save a missing button or a gravelly voice. We create them from our own desire like pencil rubbings of impressions left on hotel notepads because these characters offer us in black and white the "dark mirror" to the "fundamental optimism of the American dream"—whole, tan, the colored white.
EXTRIGUE looks again at this legacy—it en-noirs noir—increases contrast and highlights, sharpens the edges, counts the smokes and mirrors in the smoke and mirrors of celluloid intrigues.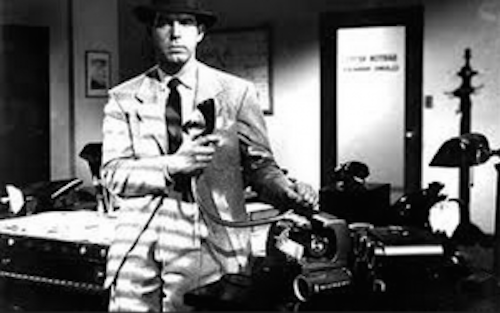 Shiv describes his EXTRIGUE as a "shot by shot rendering of all the clues in Billy Wilder's Double Indemnity." In programming, rendering is the process of creating or manifesting an image from a model— a movement from one simulation to another. In the meat industry (what I call Body-Waste Management U.S.A), rendering is the process of converting the dregs of animal tissue, bones, feathers, and blood into "stable value added material." These materials are separated—wheat from chaff; fat from protein; Red Sea from Red Sea—and translated into industrial greases, soaps, and pet food tins.
To "render," then, has two valences—it is both the creation of something based on an ideal model (procedural flesh draped on the wireframe structures) and the parsing of waste from the still-useful. In the words of The Offspring: You gotta keep 'em separated. From the waste of slaughterhouses and zoos into unwaste in your homes and gardens. Rendering makes the unimaginable sights of remote zones (the hatchetry of meat-packing; the greasy choppers; the steam "digesters") reappear in Fluffy's heart-shaped food bowl.
Rendering is also, of course, a performance of a score or a play—a remediation of another's vision for a series of bodies in a series of spaces. Rendering is a type of Ekphrasis. I am freaked out that I have never paid attention to the horror of poetic rendering. I've been rendering benignly for years, and all the while, my hands covered in lard and blood Gross. EXTRIGUE has pointed this out to me.
Hello, Divya, please wipe your eyes from all the bits and body parts flying at you in black and white.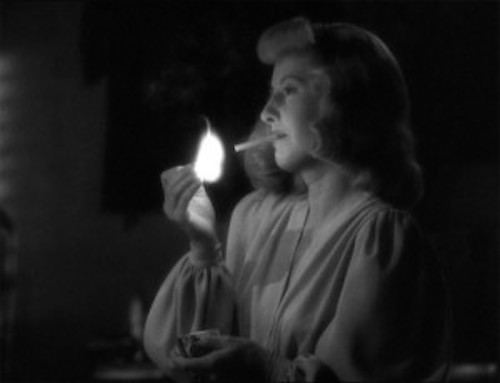 Shiv: Making EXTRIGUE
 So here's my process in regard to EXTRIGUE
EXTRIGUE is a shot-by-shot rendering of all the clues in Billy Wilder's Double Indemnity. You've seen the movie right? Walter Neff is a hot potato insurance claims adjuster who falls for a girl and kills a couple people thinking that they can get away with it and then he can runaway with her. But at the beginning of the film, he's wounded, alone, and at like the extremist limit of dying really, and so he confesses the whole drama into a voice recorder, knowing, at that point, that he was missing something that was smack up against his nose the whole time So, I guess, in a way, EXTRIGUE is just a more accurate account of what happened. Anyway, that doesn't matter so much.
The only things I needed to do this were a computer, the Internet for a little while (just enough time really to download the movie from a torrent client), and some time. Check. Check. Double check.
I figured that I had to make for myself some procedure wherein I made sure to survey and organize everything in the film that could be a considered a suspect of the murders in the film. The most accurate way to do this was to count everything in each shot of the film. (Joan Copjec has a great article about Double Indemnity, and the history of insurance claims and its relation to counting, and she's way smarter than I am, if you're interested, or anyone else is). This turned out to be a good thing for me, because, like most insurance agents, I really do like counting and I can do it for long periods of time. Obviously there's something perverse and thus enjoyable about shattering a movie into its smallest frames and going ahead and shattering all of those just by counting it...But, otherwise, it was just a really lazy way of doing some sort of police work or something.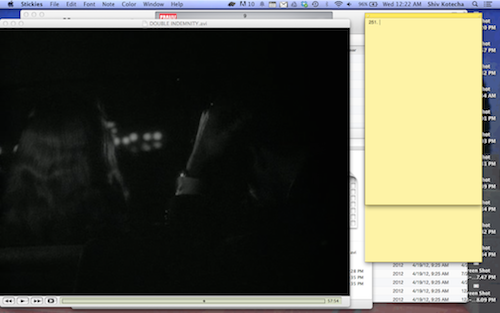 Anyway, you asked what I did, so here's what I would do. I would open the movie file in VLC and extend the window as far down on my monitor as I could. I had to leave a little room, like an inch or two, along the right-side margin, so as to have some writing space. I would open the Stickies pad and drag it into this right-margin space.
There were so many times where I would actually do only that, just set everything up really quick: open the movie file, scroll to the shot in the movie where I previously left off, turn the volume off, play something on iTunes, press the play button and then immediately press the pause button, open the stickies app, extend it down, write down the number of the shot on my sticky … and then I'd just stare at it for a while before, eventually, closing all the windows and doing something else.
Which, as it turns out was an activity very similar to what it is like to count your way through a movie in the first place. Pausing, lots of pausing. I mean, when you set up for yourself sort of mathematical expectation of a given thing—in this case a 9'' VLC window—a lot of things suddenly appear to have the need to be really properly accounted for: hats, blinds, bangs, glasses, liquids, numbers, shafts of light, pockets, sunglasses, rings of smoke, doors, ties, some legs, things like faces… you get the point. And you just have to write how many of them are there. As Dashiell Hammett says, 609, when read upside down, is still 609. It just matters whether there are 1 or 2 of them. 609 is pretty much same thing as a face.
I actually tried this process out with a couple films before settling on Double Indemnity—a choice that was mostly arbitrary, I guess. I did like the idea of doing it to Pasolini's Salo as well, which would've been totally insane but there are so many colors in that movie that seriously got in the way of counting it. With this movie, I didn't have to gauge between pink flesh or dead flesh, because it was all just a matter of things being lighter or darker than the things they were next to.
I guess it makes me feel pretty sad now that I'm all done with it all. Poor Neff. Didn't do it smart. Couldn't finish. But, to be honest Div, maybe he's lucky. You know what it's like when to finish, don't you? Like right when you're done, you're either disgusted or sad? Such a bummer. In this case, to be honest, I guess I'm just pretty sad.
Shiv Kotecha is the author of PAINT THE ROCK (TROLL THREAD, 2011) and OUTFITS (TROLL THREAD, 2012). Other work appears in P-Queue and on Gauss PDF. He currently lives in New York City and is a PhD candidate at NYU.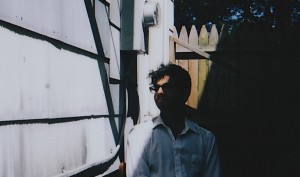 Divya Victor is the author of Kith (Fence, 2017); Natural Subjects (Trembling Pillow Press, 2015), winner of the Bob Kaufman Award; Things To Do With Your Mouth (Les Figues, 2014); Partial Derivative of the Unnameable (Troll Thread, 2005); and Goodbye John! On John Baldessari (2012); and the chapbooks UNSUB (2014),...