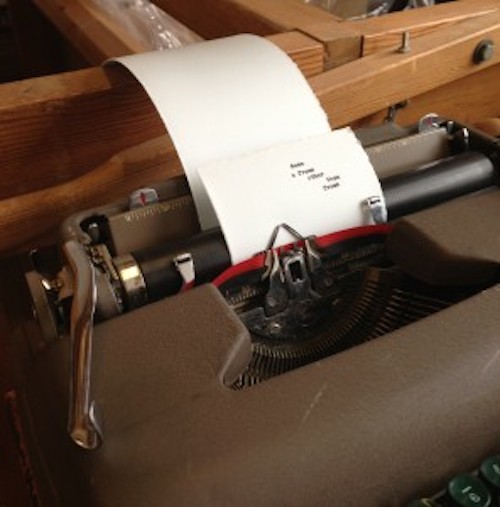 I was delighted, if a bit apprehensive, when invited to blog for Harriet during Poetry Month this April. I don't really think of myself as a blogger. In fact, not at all. I'm a fairly slow writer, working in stops and starts, and a lot of the time I'm working on someone else's writing—as an editor, publisher, amateur archivist, and literary executor—so the pace of my writing, the time between idea and manifestation of idea in writing, tends to meander in a way that is not entirely compatible with rapid-fire social media and the ever-proliferating blogosphere. It can seem a delicate endeavor to enter these rapids and maintain one's own sense of pace, of tempo. However, the invitation came at a moment when I was not writing much, so signing up to compose a series of posts in one month, to challenge my pace and alter my approach, seemed like the right move. I've spent the last few months hemming and hawing, wondering how to fill the space, wanting to prepare in advance, and failing. At first, I thought of several things that I felt I should write about, then considered what I wanted to write about, and that led me to enumerate various topics and ideas—some intertwined, some unrelated—that I've begun to work on or considered pursuing in recent years, ideas I would like to think more about writing about.
I considered stealing a title for these posts—"Indiscrete Series"—from Norma Cole's "Preparation of Titles" in her essay "The Poetics of Vertigo" (To Be At Music: Essays & Talks, Omindawn, 2010). I can't say, though, whether this particular series will in fact be 'indiscrete,' as much as I like that idea. And I can't say for sure how serial the posts will be either. Nonetheless, Cole's list suggests various framings for her essay, as well as digressions, elaborations, and alternate lines of thought. The list, presented as "a short text in stanzas," becomes a text of potential and possibility. A poem in itself composed of gestures not yet corralled by being written through to their logical conclusions.
The list could go on. It's a comfort. The list, in general, has always been a way out, a way through, a starting point and point of proliferation for me. Not the public lists that raise as many issues and problems as they do satisfy perceived needs—"year end" or "best of" lists or lists such as the recent Asian American Poetry Sampler, which received the important and justifiably angry response, Refusal=Intervention by Eunsong Kim and Don Mee Choi. Not these lists, but the personal lists, the quotidian lists that mark time, activity, experience—lists of words, phrases, fragments of conversation, books, places, works of art, pieces of music, even tasks…and here, titles and topics that I might or could, or would like to, or will, address over the course of this month:
"Impossible Subjects"
"Fugue-Logic & Forming Silence"
"Composition as Exploration"
"Fugue States: Flight & Pursuit"
"Canvas of Time"
"What's the Score: Poetry & Musical Form"
"Humoresque: On Creating Formal Constraints & Disobeying Them"
"Wits Gone to Wander: Transliteration & Formal Experimentation"
"Exacting the Echo"
"Sonorous Animals"
"Birds & Their Antecedents"
"The Thinnest Possible Surface"
"The Integrity of the Fragment"
"The Charge of the Interstitial"
"Negotiations With Space"
"Whatever Happened to Hagsploitation?"
"Hysteria as a Form of Resistance"
"This Mask Which is Not One"
"Fever Pitch"
"All the Rage: From Sunset Boulevard to Trog"
"Recovering the Hag"
"Fury is A Symptom of Patriarchy"
"Am I Hysterical, or Are You Just Happy to See Me?"
"Curable by Persuasion"
"Vicious Associations"
"Musée pathologique vivant"
"Theaters of Madness"
"Out of This World & Into the Frame"
"On The Reality of External Objects"
"Euphemistic Ephemera"
"Third Form: Collaborations with Visual Artists"
"Between the Lines: Drawing & Poetry"
"Double Life: The Collaborative Line"
"Exceeding the Frame: The Line & Its Relation to Events"
"The Multiplicity of the Line"
"A Line is a Space with Duration"
"Modal Synaesthesia"
"Seeing Through: Writing, Painting & Music"
"Beside Myself: Ecstasy & The Poetics of Reflection / Projection"
"The Ecstatic Example"
"Multivocal Echo Chambers"
"Translation, A Poetics"
"Vanishing Point in a No-Man's Land"
"The Remove: Writing & Distance"
"Trauma and Poetry: Being In Relation"
"Bleeding Heart: Channels of Mourning"
"Death is An Innumerable Accuracy"
"Writing After"
"Carrying On: The List as Interlocutor"
"Listing"
"Accidental Archivist"
"Legacy Poetics (& Politics)"
"Make My Mind Be Magnolias"
"Alterity & Seeing on the Rim"
"Send Me A Poem: On Space & Serial Poetry"
"Alienation in the Midst: Community & Discontinuity"
"Cult of Visibility"
"Class Confessions: How Poets Talk About Money"
"No, We Don't Have A Mail Room & Other Misconceptions About the Small Press"
"The Natural Death of A Literary Journal"
"Where Does the Outside Commence: On Publishing Poetry in Translation"
"On Not Writing"
"On Losing the Thread"
"Time Away"
"On Painting: A Poet's Notes"
"On Playing Music: A Poet's Notes"
"On Returning to Writing"
"Time's Emotional Content"
E. Tracy Grinnell is the author of Helen: A Fugue (Belladonna Elder Series #1, 2008), Some Clear Souvenir (O Books, 2006), and Music or Forgetting (O Books, 2001), as well as the limited edition chapbooks Mirrorly, A Window (flynpyntar press, 2009), Leukadia (Trafficker Press, 2008),  Hell and Lower Evil (Lyre Lyre Pants on Fire, 2008), Humoresque (Blood Pudding/Dusie #3, 2008) Quadriga, a collaboration with Paul...